Video shows Cambridge police tackle and punch black Harvard student during arrest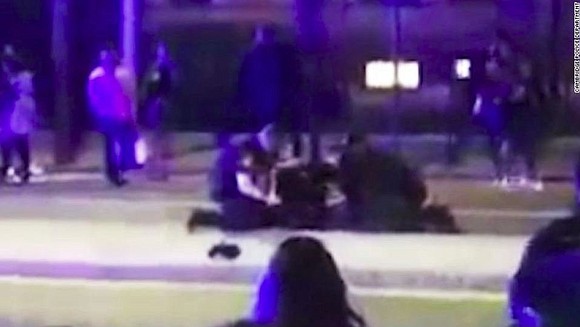 By Amir Vera, CNN
(CNN) -- Cambridge police have launched an internal investigation after a video showed officers tackling and punching a naked black Harvard student who police said was resisting arrest.
According to a police report on the incident, officers responding to multiple calls about a disturbance at a busy intersection late Friday found Selorm Ohene, 21, naked and acting in an "aggressive, unreceptive, and intimidating" manner. They were also told by Ohene's friends that he had possibly taken LSD or another hallucinogenic drug, the report said.
Police said they tried to reason with Ohene but he became more hostile and would not comply with their demands, so they took him down, according to the report. He still would not allow the officers to handcuff him, so one officer "delivered approximately 5 strikes with a closed fists to the area of his stomach. These seemed ineffective," the police report said.
Ohene was eventually handcuffed, shackled and placed in an ambulance, where he spat blood and saliva at the emergency medical technicians, the report said. He has been charged with indecent exposure, disorderly conduct, resisting arrest, assault, and assault and battery on ambulance personnel, the police report said.
'Video speaks for itself,' attorneys say
Lawyers for Ohene said in a statement Tuesday their client, who is studying mathematics at Harvard, is recovering from injuries "sustained during his encounter with the Cambridge Police Department."
CNN affiliate WCVB reported the student was in police custody as of Monday evening, but was in a hospital undergoing a mental evaluation. It's unclear from the police report what his injuries are, or the severity of them.
"This has been and continues to be a trying ordeal for Selorm and for his family," said his attorneys, Prof. Ronald S. Sullivan Jr., who is the director of Harvard Law School's Criminal Justice Institute, and Prof. Dehlia Umunna, the deputy director of the institute.
"Although there has been significant extrajudicial commentary on Selorm's case, we do not intend to litigate these matters in the media. As the public is aware, several students captured the incident on their cell phones. The video speaks for itself. At this time, our focus is on Selorm's health and well-being," the attorneys' statement added.
Harvard University President Drew Faust called the incident "profoundly disturbing."
"A Harvard student was in obvious distress, and we need to understand how that came to be and whether we could have interceded earlier and more effectively," she said in a statement Monday.
"We do not yet know all the facts, and it will take time before the necessary reviews have been completed and we have a fuller understanding of events leading up to the incident and the incident itself. But what we do know raises important issues about the relationship between police and the communities they serve, student health resources, and the manner in which University units operate with each other and with our partners in the community," Faust said in the statement.