'The enforcer' -- how Barbara Bush became the matriarch of the Republican Party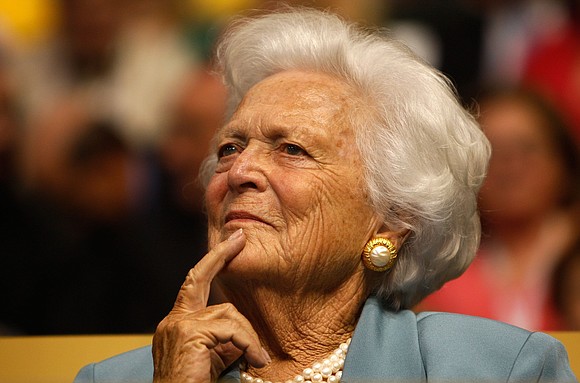 By Chris Cillizza, CNN Editor-at-large
(CNN) -- On Tuesday night, word came that Barbara Bush, the 92-year-old doyenne of the first family of Republican politics, had passed away.
To some, Barbara Bush is nothing but a shock of white hair and a vague memory that she was once First Lady of the United States. But, she is much, much more than that -- one of only two women ever to be the wife and mother of presidents, among the most beloved first ladies ever and the unquestioned leader of her prominent political family.
For more context on Barbara Bush and her role in American politics, I reached out to Kate Andersen Brower. Brower, a CNN contributor, wrote "First Women: The Grace and Power of America's Modern First Ladies" and has a new book out June 5 entitled "First in Line: Presidents, Vice Presidents and the Pursuit of Power."
Our conversation, conducted via email and lightly edited for flow, is below.
Cillizza: Barbara Bush is the wife and mother to a president -- a unique historical distinction. How does she see herself in that role?
Brower: She is a devoted wife and mother and she is loyal to her husband who she called "a saint." (She has a very dry sense of humor so she would often say things like I have the "perfect family" tongue-in-cheek, but when she calls her husband a z'saint," I think she means it.)
They have been married for 73 years, the longest presidential marriage in history. She is the matriarch of the Bush family but also the matriarch of the Republican Party -- a party she probably doesn't recognize anymore. She represents an era of civility and decorum that is sadly lacking in both political parties today.
Cillizza: She has long been cast as the iron fist of the family. How much of a factor was she in the political career of her husband and oldest son?
Brower: Her family calls her "the enforcer," and when George H.W. Bush was president, he would tell reporters, "Look out, the Silver Fox is really mad at you" if a story they wrote had offended him. In that way, she was like Nancy Reagan minus the negative public perception. Inside the White House, aides and reporters knew not to cross her. She was a hugely popular first lady who was dispatched to New Hampshire to file the papers for Bush when he ran for re-election and she spent more time campaigning in New Hampshire than her husband did. (Editor's note: Barbara Bush actively campaigned for her son, Jeb, during the 2016 New Hampshire primary.) She helped him win his first ever election by campaigning in 189 precincts in Harris County, Texas, in 1962 when he ran his first campaign for Republican Party county chairman. She is his greatest fan and adores him.
Cillizza: Barbara Bush was not initially enthusiastic about Jeb Bush's 2016 campaign. Why not?
Brower: She strongly believed that it was someone else's turn. She was the mother of six children and, as you mentioned, she was one of only two first ladies who was also the mother of a president, a distinction she shared with John Adams' wife Abigail, who was the mother of John Quincy Adams.