Southwest passenger died after broken plane window nearly sucked her out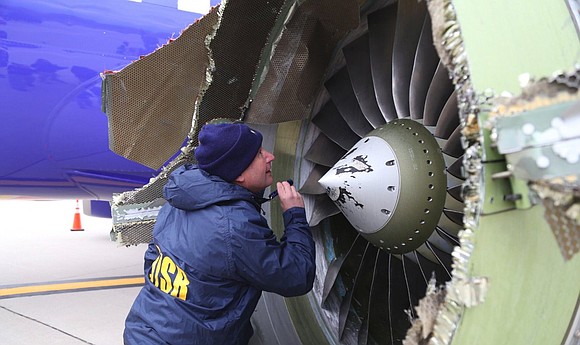 By Faith Karimi and Steve Almasy, CNN
(CNN) -- For 20 minutes, the Southwest Airlines jet was a normal flight from New York City to Dallas with 149 people aboard.
The plane was flying at 32,500 feet Tuesday morning as passengers settled in for the three-hour flight.
Suddenly, the alarms blared in the cockpit as what sounded like explosions boomed from the left side of the plane. Oxygen masks swiftly dangled from the ceiling.
What followed was a terrifying sequence of events that ended with one woman dead, seven people injured and an emergency landing at Philadelphia International Airport.
'Everybody was going crazy'
Southwest Airlines Flight 1380 took off from LaGuardia at 10:43 a.m., and landed in Philadelphia about 11:20 a.m., federal officials said.
The Boeing 737 was headed to Dallas with 144 passengers and five crew members . For about 20 minutes, everything seemed calm. Then what sounded like an explosion suddenly jolted the plane, passenger Marty Martinez said.
"I heard a loud boom and about five seconds later, all the oxygen masks deployed," he said. "I immediately knew something was wrong. It just didn't register what could have been."
Something in the engine broke apart midair and burst through the window, passengers said. The shattered window partially sucked a woman out of the plane as passengers struggled to pull her back in.
"Everybody was going crazy, and yelling and screaming," Martinez said. "As the plane is going down, I am literally purchasing internet just so I can get some kind of communication to the outside world."
Objects flying out
As the plane quickly descended, passengers scrambled to pull the woman away from the window. Others stuffed clothes and jackets into the gaping hole on the window, said Martinez, who was sitting two rows away from the woman. Those items got sucked out of the plane, too, he said.
"We could feel the air from the outside coming in, and then we had smoke kind of coming in the window," Martinez said.
In the chaos, it was hard to hear anyone. Flight tracking website FlightRadar24 estimated the plane descended from 31,684 feet to 10,000 feet in a little over five minutes.
"It was very loud, so announcements from the pilot or any other crew would not have been heard," passenger Amy Serafini said.
Passenger Matt Tranchin watched the commotion as people tried to help.
"Everyone kind of descended on where this hole was," he said. He thought about his family, and whether he'd see them again.
"That I'll never live to see my son born. That I'll never be able to say goodbye to my wife, say goodbye to my parents. But I am. I feel really very fortunate for that," he told CNN affiliate WPVI.
Nurse performs CPR
After trying to pull the woman back for several minutes, a man in a cowboy hat and a second man finally got her back in her seat, Serafini said.
A nurse aboard the flight volunteered to perform CPR.