East End to Host Cinco de Mayo and Piñatafest in "El Corazon de la Comunidad"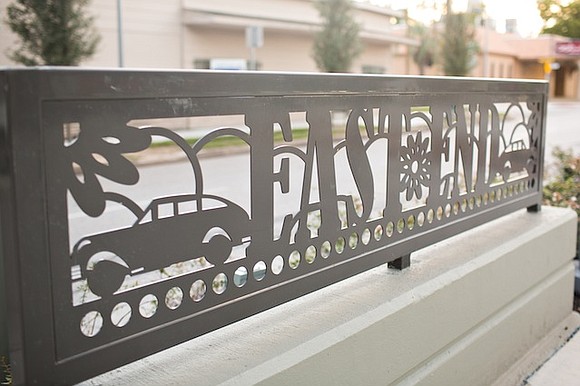 The East End District, in partnership with the East End Foundation, Houston Arts Alliance, Houston First and other cultural and arts organizations of the Houston area will bring colorful festivities for children and adults alike to the award-winning Navigation Esplanade on Cinco de Mayo (May 5th). The fun will begin at noon with free family-friendly activities including a piñata-making contest, modular building blocks for kids, mariachi music, plenty of food options and much more. Attendees will also be invited to build piñata sculptures utilizing Pepakura, a new form of paper crafting used to create 3D models.
Festivities will continue throughout the evening, featuring live music, local food and beverages, children's activities, and numerous artisan vendors.
The celebration will take place in the heart of East End Houston on the award-winning Navigation Esplanade located at 2800 Navigation Blvd.
Piñatafest 2018 from noon to 4:00pm:
*Piñatas on the Esplanade: Large-scale sculpture Exhibition inspired by traditional Piñatas, (awards at 3 pm)
*Community Piñata Making: Garcia's Party Store invites participants to create mini piñatas.
*Contemporary Piñata Crafts: TXRX Labs invites participants to create contemporary piñatas utilizing Pepakura, a new form of paper crafting used to create 3D models.
Boricua Soul Entertainment DJ will be playing your favorite songs from 12-4 pm. Ballet Folklorico Azteca is an organization dedicated to teaching children and teenagers the culture and art of México by means of the dance. Come learn the basics of Folkorico Dance and watch them perform from 1pm - 2pm.
*Artist Falon Mihalic (recipient of the Kaboom Play Everywhere Grant) presents Playshapes: a pop-up art installation which includes a set of modular colorful building block shapes that kids use to create their own spaces. Tunnels, arches, forts, paths, and more are possible with the easily stacked and combined high density foam forms
*Face-Painting: YES Prep East End Campus Art students offer their skills and talent to paint fun and fabulous designs on participants faces.
*Games with Repurpose Depot: Two or three toy homes with elements (doors, windows, appliances) that can be disassembled and reassembled with simple tools.
*East End Art Ride: Bike Houston invites participants to tour the East End Cultural District (meets at MoonTower Inn)
*Piñata-Pop: Children 5 and under to break piñatas with candy inside.
*Sculpture Awards Ceremony: Piñatas on the Esplanade sculpture awards announcement 3pm.
*Wide array of street vendors lining the Esplanade offering food, crafts and drinks. Market items will be for sale. Presented by East End Farmers Market
*Cinco de Mayo celebration continues 12:00pm to 10:00pm:
*Numerous artisan vendors lining the Navigation Esplanade
*Live music, including East End Houston's own Sister Sister Y Los Misters,
Roberto Del Toro & the Del Toro Trio, as well as a Selena tribute
performance
*Numerous local food and beverage options, including Gutierrez Taqueria and their famous trompo tacos.
*Mechanical bull rides & more!
Cinco de Mayo Festival and Piñatafest are from 12:00PM to 10:00PM on May 5, 2018 in the East End District, 2800 Navigation Boulevard, Houston, TX 77003. Learn more at www.eastendhouston.com.