Israeli judoka Tal Flicker: 'Sport should overcome all the politics'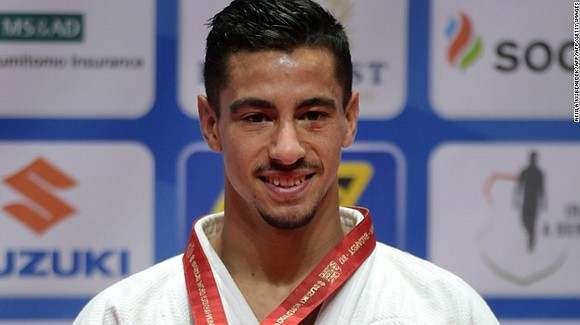 By Henry Young, CNN
(CNN) -- As Tal Flicker prepares to fight for gold on home soil at this week's European Judo Championships, the memories of the last time he stood upon the podium come flooding back.
Six months have passed since the Israeli triumphed in the half-lightweight division at Abu Dhabi's IPIC Arena, a sporting feat blighted by geopolitics that generated headlines around the world.
"I think it is the same feeling; it is still bittersweet," Flicker tells CNN Sport, having sung Hatikvah in quiet defiance when tournament organizers refused to play his country's traditional national anthem.
"Of course, winning a gold medal at a grand slam was very sweet but, at the same time, sport and politics should not mix.
"I think sport should overcome all the politics."
'A positive experience for all participants'
Approximately 400 athletes from 44 nations are expected to travel to Tel Aviv for this week's competition.
And Flicker isn't the only one that hopes such discrimination -- engendered because the UAE has no diplomatic ties with Israel and doesn't recognize it as a state -- never occurs again.
Former Olympic judoka Moshe Ponte, now president of the Israel Judo Association, believes the Championships offer a chance to showcase the nation on the 70th anniversary of its Declaration of Independence.
"We are delighted to have the opportunity to organize these important Championships," said Ponte.
"We firmly believe that a Judo tournament should be a positive experience for all participants sportsmen, coaches, staff and audience alike."
Sergey Soloveychik, president of the European Judo Union (EJU), issued a statement praising Israel's heritage, predicting it would be a "joyful" occasion.
"Israel has a successful history of staging important European events," said Soloveychik. "I sincerely hope that these Championships will bring you a lot of positive emotions and bright impressions."
Flicker predicted the Tel Aviv tournament would run smoothly, calling it a "70th birthday gift" for his country.
"I'm very excited to compete in Israel; it's going to be an amazing event," he said. " I hope we will have more.
"People don't know how beautiful Israel is and how much we love judo, so I think everyone is going to enjoy it."
Flicker has previously spoken passionately about his pride in representing Israel, writing on his official Facebook page last year: "With or without the flag, I will face the difficulties and any rival in front of me... Everyone in this world knows where we're from and which country we represent."
He and his 11 compatriots competing at the elite international event in Abu Dhabi were forced to wear judo uniforms without the typical identifying symbols of their nationality -- despite the International Judo Federation (IJF) contacting the president of the UAE Judo Federation insisting all delegations be treated "absolutely equally," according to a letter obtained by the AP
IJF president Marius Vizer contended Flicker and the team had been treated well given the "delicate issues" between Israel and the United Arab Emirates, issuing a statement saying: "Sometimes with courage, respect and politeness, you can solve tensions and conflicts which have not been solved [for] many decades."