Todd Clever: Former US rugby captain turns to WWE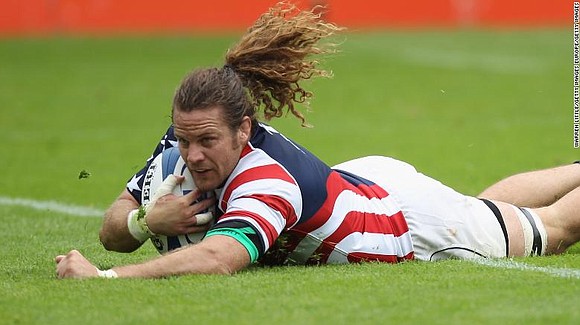 By Alan Dymock, for CNN
(CNN) -- Two years ago, while he was still captain of the USA national team, rugby star Todd Clever was approached by World Wrestling Entertainment to see if he would like to try his hand in the ring.
He declined at the time. But in February this year, WWE hit-up Clever again. Having not long retired from test rugby, he thought: "Why not?"
The former Eagles back-row, 35, explains: "I was contacted by the WWE and asked if I had any interest and wanted to come out (to try out). I was playing at the time so all of my focus was being an athlete for rugby.
"Once I retired, I guess they caught wind or something happened I got calls and another invite.
"That's my whole thing. You don't want to have any regrets in life, from missing out on experiences. That's why I'm always saying yes to going on social rugby tours now, even if it costs me money now. I still have a blast doing it.
"So when this happened, I didn't want to miss out on anything, so I said yeah, and I went out there for a week. I absolutely loved my time there in Orlando, Florida. It was brilliant. Their high performance center was top-notch and I really felt at home."
Keeping quiet
After spending a week at this cathedral of wrestling, the native Californian has headed back out West. However, while no contract has been signed, talks are ongoing between Clever and WWE and the ex-flanker is optimistic.
Before the Clever news became official, earlier in the year social media was abuzz with word of talent scouts looking to rugby for the next superstar.
While current and ex-players excitedly chattered about who could cut it in wrestling and what finishers each test star could use, Clever kept quiet.
"When those things came out, it was funny because I was tagged on social media from a dozen different people saying, 'Yo, there's a talent agency looking for ...' whatever else," he recalls with a smile.
"I kept it under my breath, but things were already in motion. I had my flights booked over there and everything else. I was laughing it off.
"I think WWE is all about hitting new markets and the entertainment side. So crossover athletes are nothing new for them. They've had guys from the NBA or NFL and obviously with the growth and rise of rugby -- in the States, sure, but overseas as well -- they want to tap into the market.
"And obviously rugby players are amazing athletes. So I think there's a mutual benefit for both sides."
Clever, born in San Jose, California, has been a familiar face on the world scene for some time.
He is best known for his 15-year stint with the Eagles, although he was embroiled in controversy when he missed out on World Cup 2015, with the staff at the time claiming it was due to "conduct violations."