Why James Comey is not done with Donald Trump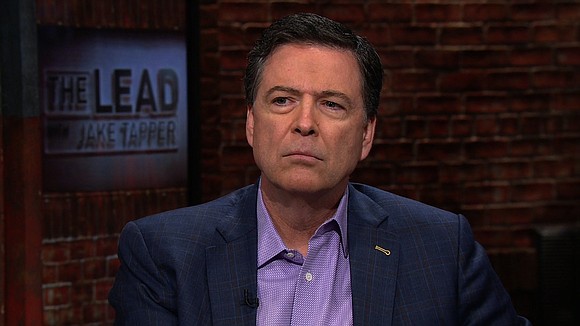 Analysis by Stephen Collinson, CNN
(CNN) -- James Comey has shifted hundreds of thousands of copies of a "A Higher Loyalty" and has a bumper bestseller on his hands.
But whether his book tour has advanced his goal of alerting Americans to the danger of what he sees as a presidency that threatens "much of what is good in this nation" is far less clear.
The former FBI director will have a new chance to make his case to the country in a CNN town hall meeting Wednesday night at his alma mater, The College of William and Mary in Williamsburg, Virginia, hosted by Anderson Cooper.
It was probably inevitable that Comey's warnings would be overshadowed, given that he's now one of the most polarizing figures in American life following his role in the 2016 election, which left him despised by supporters of both Hillary Clinton and Donald Trump.
In the storm whipped up by the book, his calls for ethical leadership and fears that Trump is damaging the institutions that underpin the republic have been drowned out by reaction to his more mundane observations -- for instance, about Trump's skin tone and hand size, which some critics saw as vindictive.
Yet given that his book has already sold 600,000 copies, according to its publisher on Tuesday, far outpacing other political exposés, it is destined to become part of the public record of the Trump presidency.
Comey's final argument -- that the norms, traditions and values that have guided the United States for decades are under threat by a President brazenly challenging the rule of law -- is one that could be rendered more relevant and powerful by events that are yet to occur in this most unusual presidency.
And Comey's character sketch of the President -- who he portrays as curiously lacking an emotional core and with the morals of a Mafia boss, will be still influencing the historical interpretation of the Trump presidency when current controversies have faded and all the key players are long dead and gone.
Strong sense of own integrity
Throughout his book tour, Comey has remained the same singular, cordial and self-possessed, sometimes exasperating figure with a strong sense of his own sense of integrity that he was while in office.
That highly developed sense of his own pure motives -- despite his admissions that he has worried about the size of his own ego -- is continuing to irk his critics. Yet he's interpreted the bile coming his way as a sign that his motives, if not his actions in the Clinton email saga or in investigating the President over Russia's election meddling, are unimpeachable.
"It doesn't mean that I'm right, that everybody hates me, I could still be wrong," Comey told CNN's Jake Tapper last week.
"(But both sides) can't be right that I'm in the other team's pocket, which I hear all the time. That can't be possible."