World's longest nonstop flight: Airbus A350-900ULR set to enter service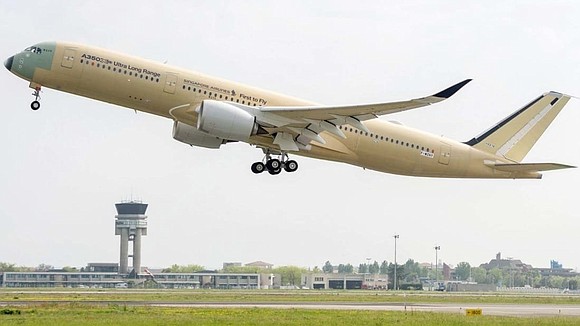 By Howard Slutsken, CNN
(CNN) -- Singapore to New York, nonstop. Almost 20 hours in the air.
By the end of this year, passengers on Singapore Airline's newest plane, the Airbus A350-900ULR -- for Ultra Long-Range -- will travel on a record-breaking, globe-spanning flight that will reconnect the two major metropolises.
The airline used to fly the gas-guzzling, four-engine A340-500 on the 9,500-mile route, with just 100 business-class seats on board. The service proved to be inefficient, and Singapore Airlines canceled the flights in 2013.
The airline is now taking delivery of Airbus' newest wide-body, the A350-900. It has 21 planes in its fleet, of an order for 67 aircraft.
Singapore Airlines has ordered seven of the ULRs.
On April 23, the plane had its first test flight, an almost five-hour round-trip that launched from the airframer's assembly plant in Toulouse, France.
The ULR will be able to fly a remarkable 11,160 miles, an increase of more than 1,800 miles over the standard A350. It means that Singapore Airlines will reclaim the crown of running the world's longest nonstop air route.
Day in the air
But how will passengers comfortably fly -- or perhaps endure -- a flight that lasts the better part of a full day?
That's three hours longer than the Qantas Airlines 787 flight from Perth to London experienced in March by CNN's Richard Quest.
"The A350 is a clean-sheet design that has been designed for those long-range flights," Florent Petteni, Airbus' Aircraft Interiors Marketing Director for the A350, tells CNN Travel.
All A350s share Airbus' design philosophy that makes the aircraft cabin feel more like a room, rather than a long tube. The plane has high ceilings, sophisticated LED lighting, almost vertical sidewalls and a low noise level.
These features, along with a maximum in-cabin simulated altitude of just 6,000 feet, all combine to provide an improved passenger experience, according to Petteni.
"You may not exactly pinpoint why it's so comfortable and so nice to be flying on this airplane, but everything was done on purpose."
Like the windows.
A room with a view
The A350's fuselage is made from composite materials, including carbon fiber -- rather than using conventional aluminum construction techniques. This allowed Airbus to include wide, panoramic windows. Lots of windows.
"We have no missing windows. Whenever a passenger selects a window seat, they will always get a window," says Petteni. This eliminates the dreaded "windowless" window seat found on other aircraft.
But given the ultra long-range mission of the ULR, it was equally important to ensure that the cabin can be made fully dark, to give passengers a restful sleep environment.
Airlines will have the choice between a standard pull-down shade, or an electro-mechanical, push-button system, with two cabin-darkening blinds.
The air circulation system on the A350 has also been designed to be quiet and draft-free.
"So even though we recycle the air in the full capacity of the cabin every two to three minutes, we do it in a way that we reduce the velocity of the air inside the cabin," says Petteni.