Lawmakers grilling EPA chief Scott Pruitt: 'You are unfit to hold public office'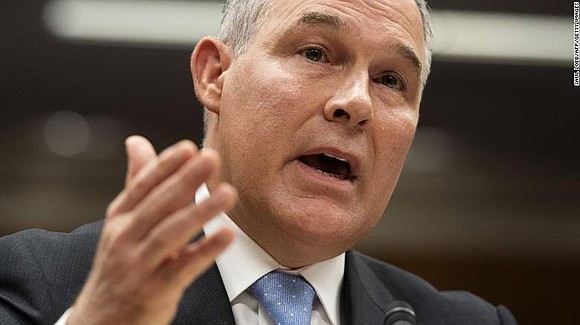 By Ashley Killough and Deirdre Walsh, CNN
(CNN) -- Scott Pruitt's controversial spending and travel decisions were the subject of a blistering congressional hearing Thursday, where the embattled administrator of the Environmental Protection Agency faced House members amid weeks of scandal.
Pruitt first testified with the House Energy and Commerce Committee and then later Thursday he will testify before the House Appropriations Committee.
While he was scheduled to talk about the budget of his agency, he's being sharply questioned from Democrats -- as well as from some Republicans -- over a long list of decisions that have landed him in the headlines. He's faced a barrage of criticism for allegedly spending extravagantly on security, building a sound proof booth in his office, approving raises for staffers and renting a condo from a lobbyist who had business before his agency.
"There are so many outstanding questions that we need truthful answers to today, because so far, we've only gotten half-truths, misleading answers, or outright falsehoods," said Rep. Frank Pallone, the top Democrat on the committee, in his opening statement.
"You are unfit to hold public office and undeserving of the public trust," he concluded.
The committee's top Republican, Chairman Greg Walden, also raised concerns that Pruitt's policies are "being undercut" by ethics controversies. "These issues are too persistent to ignore, and I know many members are looking for more clarity from you today," he said.
Pruitt addressed the allegations in his opening remarks, saying the responsibility to make changes at the EPA "rests with me and no one else" but argued much of what has been claimed is distorted.
"Facts are facts and fiction is fiction. And a lie doesn't become truth just because it appears on the front page of the newspaper," he said.
"Much of what has been targeted towards me and my team, has been half-truths, or at best stories that have been so twisted they do not resemble reality," he continued. "I'm here and I welcome the chance to be here to set the record straight in these areas. But let's have no allusions about what's really going on here."
Questions over raises
Rep. Paul Tonko, a top Democrat on the committee, was the first to question Pruitt and attempted to get the administrator to admit that he authorized the raises of two top staffers who also worked for Pruitt when he was attorney general of Oklahoma — an issue that the EPA's inspector general is also probing.
Pruitt said he was "not aware of the amount" of the raises and would not give a straight "yes" or "no" answer to whether he authorized them, but he admitted he authorized his chief of staff, Ryan Jackson, to sign off on the salary increases. Pruitt also said he was not aware that proper protocols were bypassed to issue the raises.
That was a contradiction to what he told Fox News earlier this month when he said he didn't know about the pay raises at all until they were revealed in public reports the day before the interview.