Logan Browning Gets Candid About the Series Dear White People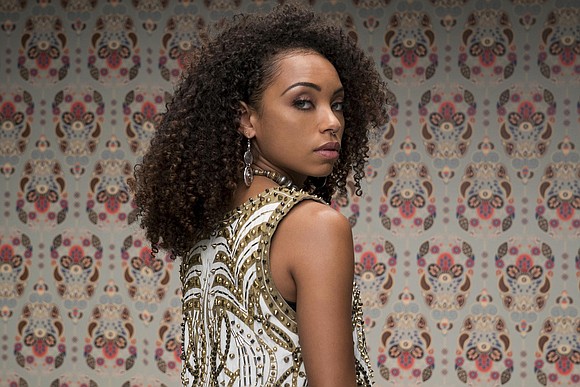 Her beauty is luminescent, her conviction fierce. It's a potent combination and why actress Logan Browning's portrayal of student activist Sam White in the Netflix hit series Dear White People has struck a chord with audiences. The series, based off the 2014 movie of the same name, also created by Justin Simien, seems custom made to address the uproarious intersection where President Donald Trump's politics and Black Lives Matter collide. More importantly, beyond its pop culture relevance, is the show's ability to humanize a people and their collective point-of-view to a larger population of viewers.
Logan plays a biracial Ivy League university student, Sam White, host of a popular, albeit controversial, campus radio show titled, Dear White People. Her character's radio show within a television show is a platform for Sam's grievances, her bottomless questions, and the racial and cultural issues that continue to surface on ethnically diverse college campuses around the world. It also serves as the show's anchor point, introducing each episode's message and plotline. And if you think the first season was binge-worthy, you haven't seen anything yet!
As Logan and I discuss the second season of Dear White People, streaming May 4th on Netflix, we segue from her thoughts on acting and developing the character of Sam to social and political activism, the emotional triggers behind race and color, and some of the most pressing issues that our younger generations face in the age of social media and our relentless news cycle.
It becomes clear to me half way through our conversation that actress Logan Browning shares the values and concerns of her television alter ego, Sam White, but with a graceful confidence and ease of spirit that continues to allude Sam in the show's second season.
Allison Kugel: Typically, when I'm researching an actor, there's a clear distinction between them and their character. With you, the unique challenge I faced is that I couldn't clearly discern where your character, Sam White, ends and you begin.
Logan Browning: That's an interesting observation. During season one, I was much further away from who Sam is. A lot of my portrayal of Sam was coming from a place of discovery and nervousness at taking on this role that Tessa Thompson originally played (in the 2014 movie, "Dear White People"). In season two, part of me becoming comfortable with Sam, was to stop fighting the parts of her that I thought were so different from me, when really they're not. There are similarities between the two of us. With most characters I've played, I find myself pushing back on any similarities because I don't want people to think I'm not playing a character. I find joy in bringing someone to life who's very different from me. But part of why I ended up getting the role of Sam is because I do fall into who she is very easily. Though her perspective on life is different from mine.
Allison Kugel: How so?
Logan Browning: In terms of how she responds to the world, and some of her reasoning within her debates. I do believe that the longer you play a character, they naturally bleed into your real life. I'm not surprised that some of who Sam is may show up in who I am. I find myself saying some of the same quips that she does in my responses to things. I also find myself using what she says, like, "This has to be right, because Sam said it!"