Who was Jack Johnson, the boxer who may be pardoned by Trump?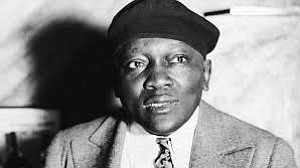 By Dakin Andone, CNN
(CNN) -- On Saturday, President Donald Trump said he was weighing whether or not to grant a posthumous pardon to boxer Jack Johnson, after it was suggested to him by actor Sylvester Stallone.
"His trials and tribulations were great, his life complex and controversial," Trump tweeted. "Others have looked at this over the years, most thought it would be done, but yes, I am considering a Full Pardon!"
Linda Haywood, Johnson's great-great niece, told CNN in an interview Sunday that she was "elated" when she heard the President was considering a pardon.
"A lot of people are saying, 'Why does this matter? Who cares? He's a dead man. He's not going to know," Haywood, 62, said.
"While that may be true, he still has living descendants. It matters to us."
Who was the boxing legend Jack Johnson, and why would the President give him a pardon?
First African-American heavyweight boxing champion
Born in March 1878 in Galveston, Texas, according to Encyclopaedia Britannica, Johnson became the first black heavyweight boxing champion after defeating Tommy Burns in Sydney, Australia, in 1908.
Two years later, he faced off against boxer Jim Jeffries, who had been called out of retirement and was referred to as the "great white hope" because many white fans wanted him to beat Johnson and take back the heavyweight crown.
Johnson defended his title in Reno, Nevada, in front of a mostly white crowd, prompting violent race riots in which more than 20 people were killed and hundreds were injured. Most of the victims were black.
"But this was white-on-black race riots in every corner of the United States, where groups of whites unhappy that Jeffries had lost went into black neighborhoods to kill African-Americans simply because of the color of their skin, simply because Jack Johnson was unforgivably black," documentary filmmaker Ken Burns told CNN's Carol Costello in 2005.
He was convicted for dating a white woman
In 1913, Johnson was convicted of taking his white girlfriend across state lines.
He was convicted under the Mann Act, a law that was meant to prevent human trafficking and protect women against prostitution, but its critics say the law was used in racially motivated prosecutions of African-Americans and to punish political dissidents.
Lawyers for the Justice Department at the time argued that Johnson's relationship with a white woman was a "crime against nature."
It took less than two hours for an all-white jury to convict the boxing legend, derailing his career and ruining his reputation.
Haywood told CNN a story that was passed down through her family over the years. After Johnson discovered he was going to prison, he went to his sister's house and sat at her kitchen table, where he burst into tears.
"He had money, and even with his money, he couldn't stop it," Haywood said. "A rich, famous, powerful man, broken down into tears like that because he was going to prison, just because he loved and married outside of his race."