BlackDoctor.org (BDO) Announces 2018 Top Hospitals For Diversity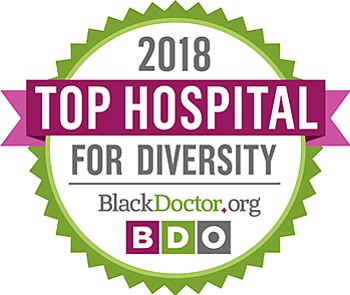 Source: Black News
Chicago, IL — BlackDoctor.org (BDO), the leading health and wellness online destination for African Americans, announces its 2018 Top Hospitals For Diversity. These hospitals represent all regions of the United States. Each hospital on this distinguished list delivers quality care at the highest level, while promoting equity and inclusion in their operations, programs, services, and staffing. Among the notable hospitals on the list are Johns Hopkins, Mayo Clinic, Cleveland Clinic, Kaiser Permanente Los Angeles Medical Center and Cedars­Sinai.
In highlighting the significance of the top hospitals list, BDO CEO Reginald Ware exclaims, "Our 30 million plus audience places a great importance upon cultural competency and sensitivity when it comes to the entire healthcare delivery system. Our users have expressed a strong desire for us to point them in the right direction to providers and companies who excel in these areas. Organizations who are working hard to see that everyone is treated fairly, regardless of race or creed, are highlighted here. This important list is our means of recognizing the best institutions, while also paying homage to those values."
Among the determining critical areas of assessment, that led to this distinction by BDO experts, executives, and editors are:
Recognition of the institution among and by other leading hospitals

Commitment to the American Hospital Association's Equity of Care Pledge

Recognized delivery of quality healthcare services

Inclusive and diverse clinical and administrative staff

Persons of color and women represented at the highest levels‑including the board of directors and senior‑level executives

Culturally competent medical and professional staff

Significant investment and profile in community health programs and initiatives
BlackDoctor.org features the 2018 Top Hospitals list on its website and its social media platforms, reaching 30 million people. In addition, a commemorative 2018 Top Hospitals for Diversity ebook has been produced and will be distributed to over 750,000 people nationwide and positioned on the BDO website (www.BlackDoctor.org), for easy and quick downloads.
2018 TOP HOSPITALS FOR DIVERSITY
A
Allegheny Health Network – Pittsburgh, PA
Aurora Health Care – Milwaukee, WI
B
Baptist Hospital of Miami – Miami, FL
Baylor University Medical Center – Dallas, TX
Beaumont Health – Royal Oak, MI
Bon Secours Health System – Baltimore, MD
Brigham & Women's Faulkner Hospital – Boston, MA
C
Carolinas Healthcare System – Charlotte, NC
Cedars-Sinai – Los Angeles, CA
Cincinnati Children's Hospital Medical Center – Cincinnati, OH
D
Duke University Hospital – Durham, NC
E
Emory University Hospital – Atlanta, GA
F
Froedtert Hospital – Milwaukee, WI
G
George Washington University Hospital – Washington, DC
H
H Lee Moffitt Cancer Center – Tampa, FL
Henry Ford Health System – Detroit, MI
Hospitals of the University of Pennsylvania-Penn Presbyterian – Philadelphia, PA
Houston Methodist Hospital – Houston, TX
I
Indiana University Health – Indianapolis, IN
J
Johns Hopkins Hospital – Baltimore, MD
K
KentuckyOne Health – Louisville, KY
Kaiser Permanente Los Angeles Medical Center – Los Angeles, CA
M
Massachusetts General Hospital – Boston, MA
Mayo Clinic – Jacksonville, FL
Medstar Georgetown University Hospital – Washington, DC