Brookstone files for bankruptcy and will close all of its mall stores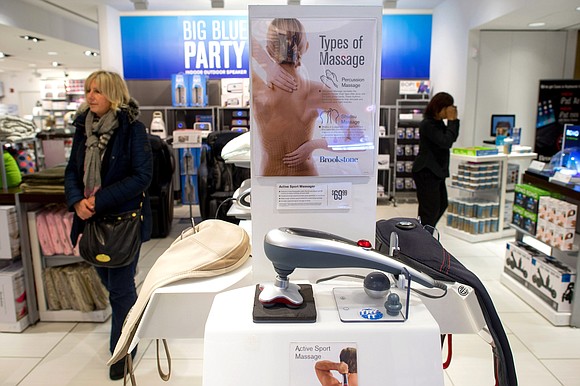 Nathaniel Meyersohn
(CNN Money) -- Brookstone filed for bankruptcy and will close its remaining 101 mall stores.
The mall and airport seller, best known for massage chairs, quirky gadgets, and travel luggage, filed for Chapter 11 bankruptcy in federal court on Thursday. It was Brookstone's second bankruptcy round in four years.
The company will keep its 35 airport stores and website open and running while it attempts to find a buyer.
It has secured a $30 million loan to finance operations during the sale. In a bankruptcy filing, Brookstone said it had liabilities totaling up to $500 million and assets between $50 to $100 million.
Brookstone's CEO said in a statement that its airport and online businesses were successful, but an "extremely challenging retail environment at malls" forced the company to close its stores there.
Unabated traffic losses at malls have plagued brick-and-mortar sellers. Mall vacancies reached a six-year high last quarter as a wave of stores closed, including Walgreens, Bon-Ton, Sears and Kmart, Best Buy, Kay and Jared, Matress Firm, and GNC.
"They're trapped in hundreds of these B and C malls, whose traffic has been in serial decline," said Mark Cohen, the director of retail studies at Columbia Business School. "Where they are in triple-A malls, they're faced with very high rent."
The company got its start in 1965 with a classified ad in Popular Mechanics magazine for hard-to-find tools. Brookstone opened its first retail store in 1973 and moved into malls in 1980. It later opened smaller airport stores.
"Brookstone had a unique value proposition," said Sean Maharaj, a director in the retail practice of consultancy firm AArete. "They had a sophisticated offering. It was more boutique-like and felt a little white glove."
Best-selling products in Brookstone's history include the Big Blue Bluetooth speakers, Nap weighted blankets, and Rock & Recline Shiatsu massage chairs, according to a spokesperson for the company. It was a launching pad for popular brands such as Tempur-Pedic, Fitbit, Indiegogo, and Segway.
The company also had a thriving catalog business during those years, selling consumers moderately priced novelty items. In 2006, the last year public filings were available for the company, it circulated close to 60 million catalogs.
"We believe our strength is identifying, developing and selling products that are functional in purpose, distinctive in quality and design and not widely available from other retailers," Brookstone said in the filing.
In the mid 1990s, Bain Capital, then led by Mitt Romney, took the company public. It operated publicly for close to a decade and then was sold in 2005 to a group of buyers that included a private equity firm in the United States and a Chinese-based retailer.
"When the company went private it was probably coming off of the most successful run in its history," Steven Schwartz, Brookstone's former chief merchandising officer and interim CEO, said in a phone interview last week.
The two ownership groups did not share the same priorities and Brookstone cycled through around 10 CEOs during the same stretch, Schwartz said. Turnover made it hard to implement a consistent strategy and vision.