Jerome Love Joins U.S. Chamber Foundation Annual Conference As Featured Speaker
Love highlights post-Harvey business recovery efforts on national stage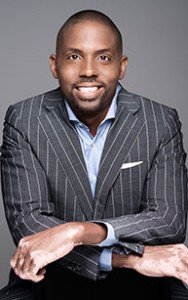 Jerome Love, CEO and founder of Texas Black Expo, took the stage with national dignitaries and corporate leaders as a featured speaker at the U.S. Chamber of Commerce Foundation's 7th Annual Building Resilience Through Private-Public Partnerships (PPP) Conference in Washington, D.C., July 24 – 25.
Love joined a group of high-profile leaders from the private and public sectors including Airbnb, Nextdoor, Insperity, FEMA, UPS, Booz Allen Hamilton, Johnson & Johnson, IBM and others. The conference focuses on preparing, responding and recovering from catastrophic disasters and the cooperation necessary between sectors to aid in recovery.
The PPP Conference examines best practices and lessons learned among public and private sectors as well as the opportunities for the private sector's continued support to build a culture of resilience.
The Texas Black Expo founded the Hurricane Harvey Small Business Relief Fund immediately after the storm to support small businesses in the greater Houston area impacted by the devastation. Through grassroots efforts, the organization raised and distributed $27,000 worth of micro-grants to small businesses and continues to raise funds in hopes of helping companies on an ongoing basis, whether during a natural disaster or other crisis.
"Having been on the front lines of disaster recovery with small businesses after Hurricane Harvey, I can say with certainty there needs to be additional programming and training that teaches entrepreneurs how to survive in business as well as consistent financial support," Love said.
During the Texas Black Expo Summer Celebration in June of this year, Love announced the creation of the Texas Small Business Emergency Micro-Grant Source, an initiative that will act as a reserve for local businesses in need of sources for equipment, supplies and financing to help these firms stay afloat.