Ohio special election and primaries in Kansas, Michigan, Missouri and Washington state: What to watch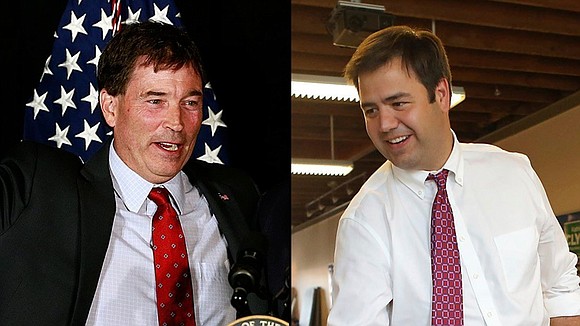 By Adam Levy, CNN
(CNN) -- Tuesday marks the final special election before November, and a reliably Republican seat is once again at risk of switching parties.
Republican state Sen. Troy Balderson is fighting to maintain his party's three-decade hold on the Ohio 12th District, which spans north and east of Columbus.
President Donald Trump and Vice President Mike Pence have campaigned there in an effort to get Republicans to vote for Balderson and tamp down Democrat Danny O'Connor's momentum. The candidates will square off again in the fall, but a loss for Republicans will serve as a major psychological blow ahead of the critical midterm elections.
The implications of this race, along with critical contests in Michigan, Missouri, Kansas and Washington state, will give a temperature of voters across the country that hasn't occurred since the last major multi-state primary in June.
What we'll learn tonight
IS THIS A SIGN OF A BLUE WAVE? If O'Connor prevails, it will be a strong indicator that Democrats can win in areas that have long eluded them. With only 23 seats needed to take back the majority in the House, a win in this Columbus-area district will put that in greater reach for them (plus the number will tick down to 22). If Balderson wins the final vote, Democrats will point to the margin to show gains. Former Rep. Pat Tiberi won the district with a margin of about 37 percentage points in 2016. A loss within a close margin less than two years after a strong victory for the GOP will still be a big talking point for Democrats.
HOW STRONG IS THE TRUMP BUMP? President Donald Trump's endorsement in Republican primaries has given last-minute boosts to candidates like Katie Arrington in South Carolina. His support for John James in Michigan and Kris Kobach in Kansas could help bring them over the line in their primaries tonight.
But will Trump's backing be enough to take Balderson over the finish line despite Democratic enthusiasm for O'Connor? The race will say a lot about the President's impact on general election match-ups in November.
A.O.C. ALL OVER AGAIN? Alexandria Ocasio-Cortez is barnstorming for progressives across the country after her unexpected primary victory over House Democratic Caucus Chair Joe Crowley in New York. She's campaigned for James Thompson in Kansas and Abdul El-Sayed in Michigan, but can she help outsider candidates in areas that aren't liberal strongholds?
What to watch tonight
OHIO-12 SPECIAL ELECTION (polls close 7:30 p.m. ET): Like many races this year, this has come down to turning out the base. Trump stumped here on Saturday to turn out his base (he won the district with 52% in 2016). O'Connor will need Democrats to turn out in droves, combined with some flips from Independents and Republicans. A mid-August race with a potential for low turnout could be the right mix for Democrats. They are hoping to replicate Conor Lamb's impressive victory in Pennsylvania earlier this year, rather than Hiral Tipernini's close but ultimate loss in Arizona. Like the Arizona special election, both candidates will face off again in November.