Trump's base-focused midterm approach tested in Ohio and Kansas races Tuesday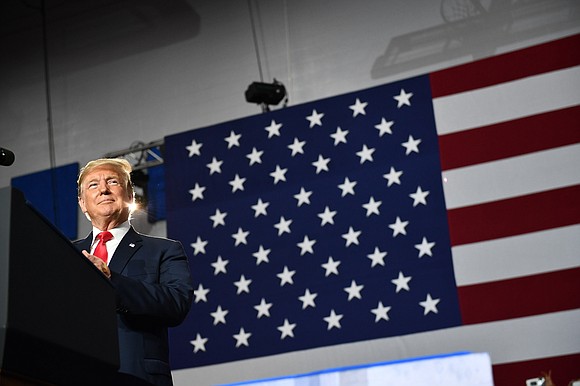 By Eric Bradner, CNN
(CNN) -- President Donald Trump has injected himself into two high-stakes contests taking place on Tuesday, turning both into new tests of Trump's tactics and sway with Republican voters.
In a special election in Ohio 12th District, Republicans are scrambling to avoid an embarrassing defeat in a seat that the party has held for decades. Trump has backed Republican Troy Balderson, who is facing Democrat Danny O'Connor in the last special congressional election before November's midterm elections. A win for Democrats here on Tuesday would signal further danger for Republicans in the fall.
The party previously lost a similar race in Pennsylvania and saw one in Arizona get too close for comfort.
In the Republican primary for Kansas governor, Trump on Monday endorsed Kris Kobach, the Kansas secretary of state known for his crusade for restrictive voting laws, over incumbent Gov. Jeff Colyer. In doing so, he ignored the pleas of the Republican Governors Association to stay out of the race. Kobach is widely seen as uniquely vulnerable in a general election due to his controversial national profile.
The two races will garner the most national attention on a day when four states hold primary elections: Kansas, Michigan, Missouri and Washington.
Tuesday's elections carry high stakes for Democrats, too -- with races in Kansas, Michigan and Missouri, where the progressive left hopes to defeat more moderate candidates.
A tight race in Ohio
Trump visited the Ohio's 12th District on Saturday and appeared on stage with Balderson at a rally designed to jolt conservatives into turning out to vote in an election that will gauge where the Republican Party stands less than three months before the midterms.
But it isn't entirely clear if Trump's support with ultimately help or hurt Balderson on Tuesday.
The day after Trump's appearance, Ohio Gov. John Kasich, a prominent GOP critic of Trump, said he asked Balderson if he invited Trump at all into the district in the Columbus suburbs -- the sort of area where Republicans have lost voters who rebelled against Trump in previous special elections. "He said, 'No, I didn't,'" Kasich said of Balderson on ABC's "This Week."
Balderson's campaign manager did not dispute Kasich's claim Monday, instead declining to comment directly on it.
"Suburban women in particular here are the ones that are really turned off," Kasich said. "It's really kind of shocking because this should be just a slam dunk and it's not."
A Monmouth University poll released last week showed a one-point race, with Balderson receiving 44% support to O'Connor's 43%, with 11% of respondents saying they are undecided.
On stage with Trump, Balderson called himself "someone who will fight for President Trump's economic agenda."
The night before the rally, Trump took to Twitter to attack LeBron James, calling the NBA star dumb just days after James, an Ohio native, poured tens of millions of his own dollars into the opening of an innovative public school in Akron.