Emergency Utility Repairs Prompt Temporary Service Change on Red Line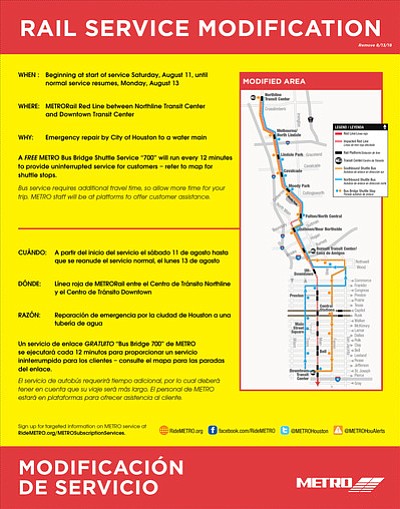 Beginning Saturday, Aug. 11, 2018, METRO will modify rail service on the Red Line to allow City of Houston work crews to complete emergency repairs to a downtown water main.
Free shuttle bus service will be provided between Downtown Transit Center and Northline Transit Center stations. Patrons traveling between these points will board shuttle buses at designated stops (see map below).
Shuttle bus service will begin at the start of service on Saturday, Aug. 11. Normal service resumes, Monday, Aug. 13.

Frequency during this period will be 12 minutes. Please allow more time for your trip.
Additionally, METRO's Trip App and Next Bus Arrival Texting service may not reflect accurate departure and arrival information during this time. Please monitor METRO's Twitter and Facebook pages for timely updates. METRO also offers real-time information through its service alerts system.