Port City Links Golf Classic on October 21, 2018 at Wildcat Golf Club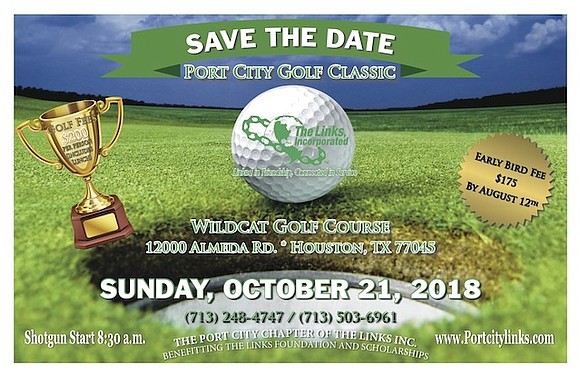 The Port City Chapter of The Links, Incorporated is gearing up for its Annual Golf Tournament and we welcome your support as a participant and/or a sponsor! The tournament will be Sunday, October 21, 2018 at Wildcat Golf Club, 12000 Almeda Road, Houston, Texas at 8:30 AM.
The Links Foundation, Incorporated, a tax-exempt, Section 501 (c)(3) non-profit organization, is the philanthropic arm of The Links, Incorporated. Contributions made toward this effort are tax deductible. The proceeds will benefit Port City's STEM (Science, Technology, Engineering & Math) programming initiatives (e.g. science fairs, supporting robotics teams, interactive hands on science) at the following Chapter-adopted, Houston Independent Schools District campuses: Codwell Elementary, MacGregor Elementary, Gregg Elementary and the Young Women's College Prep Academy (YWCPA). In addition, funds will be provided to support college students at Texas Southern University. Our programming efforts impact more than 1,000 students in the Greater Houston area.
Over 100 golfers are expected to attend this golf tournament!"
We are currently seeking sponsorships for the tournament. There are various sponsorship opportunities available, which are posted on our website at www.portcitylinks.com.