Bayou City Art Festival Downtown Announces 2018 Houston Nonprofit Beneficiaries
A portion of the proceeds from the weekend outdoor fine art festival will benefit six local charities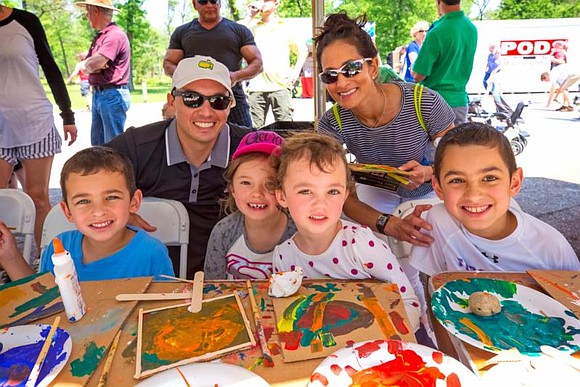 HOUSTON, August 14, 2018 - The 2018 Bayou City Art Festival Downtown, produced by the Art Colony Association, Inc. (ACA), has selected six local nonprofits that will benefit from a portion of the proceeds of the event. The weekend celebration will be held Saturday-Sunday, October 13-14, 2018, 10 a.m.-6 p.m. and will spotlight 300 artists from around the country representing 19 different disciplines in Downtown Houston.
"We are so grateful to partner with local nonprofits that not only support our festival, but also support the community," said Sara Eakens, Program and Volunteer Director of ACA. "With the help and support from our sponsors, patrons and volunteers, we are able to raise fund for worthy local charities."
Each nonprofit supports the festival by providing volunteers and has the option to host a crafting station for all ages in the Children's Creative Zone. The six nonprofit partners benefiting from the 2018 Bayou City Art Festival Downtown include:
A Cause to Give us Paws
Fresh Arts
Recipe for Succes
The Arc of Greater Houston
Museum of Fine Arts, Houston
The University of Houston - Clear Lake Art Gallery
Bayou City Art Festival, a sophisticated gallery, will transform the streets of Downtown into artistic avenues bursting with colors and culture. As one of the top outdoor fine art festivals in the U.S., the weekend festival will provide guests with the opportunity to see and purchase unique, custom art under the iconic Houston skyline. Bayou City Art Festival Downtown will feature live music in front of City Hall and throughout the festival along with entertainment, beverage stations, food trucks and much more for patrons to enjoy.
This year's featured artist, Chris Vance, is a Mixed Media 2D artist from Bondurant, IA. Fueled by daily experiences, emotions and ideas, Vance is able to transform a blank canvas into an interpretation of himself. Art is his medium of expression and Vance refers to art as his personal diary. Using acrylic charcoal, spray paint or graffiti markers, he allows his feelings to drive the piece on a subconscious level. Vance works on wood, paper and finishes each piece with a coat of lacquer.
Online tickets are on sale now until the day of the event at www.artcolonyassociation.org. Tickets online are $12 for adults and $5 for children 6 - 12; children five and under are free. Tickets at the gate are $15 for adults. Also available online are two-day passes for $20 and family passes (two adults, two children tickets) for $30. Discounted tickets for Veterans and Seniors will be available at the gate.
For updates on social media, follow the official event hashtags #HouArtFest and #BCAF, like the Facebook page, or follow on Twitter and Instagram. Also, subscribe to our newsletter here.