The Consulate General of Mexico in Houston, the Mexican Tourism Board and Serrano Gallery are pleased to present "THE FIFTH ELEMENT"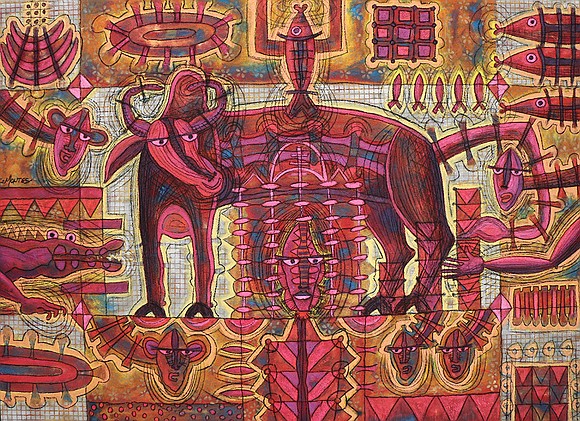 The Consulate General of Mexico in Houston, the Mexican Tourism Board and Serrano Gallery are pleased to present "THE FIFTH ELEMENT"
Friday, September 28, 2017
6:00 PM to 9:00 PM
Silver Street Studios
2000 Edwards Street, Houston, TX 77007
Rolando Rojas | Saul Castro | Dieder Mayes | Ixrael Montes | The Fifth Element
Curated by Armando Rodriguez
This event is free and open to the public.
The Artists
Four of the five artists participating in the V Element group show are well-known members of one of the most vibrant and rich artistic legacies in Mexico. Rolando Rojas, Saúl Castro, Didier Mayés and Ixrael Montes are artists and printmakers who live and work in Oaxaca. Each has his own distinct style; however, all are associated with, and inspired by a long visual arts tradition that includes such illustrious Masters as Rufino Tamayo, Guillermo Cabrera, Rodolfo Morales and Rodolfo Nieto. The Southern region of Mexico, where Oaxaca is located, is routinely celebrated for its unique artistic and graphic arts output, its cultural institutions and a plethora of art and printmaking studios. The work of these artists, which has been exhibited around the world, exemplifies the exquisite quality and range of contemporary art and printmaking in Mexico.
The V Element group exhibit will include carefully selected paintings and prints (lithographs, engravings, serigraphs, linocuts and oleographs) and will also incorporate the work of a fifth artist, a local Houston artist, to be announced on the day of the opening reception -- as a way of building upon the ongoing artistic dialogue between Oaxaca and Houston, cities that function as major cultural centers in Mexico and the U.S.
Artist Bios
Rolando Rojas
Rolando Rojas has been an enduring and steadfast presence in the Mexican visual arts scene for decades, and maintains a studio in Houston's Sawyer Yards campus. The artist and printmaker who is often described as an "Oaxacan painter," based on his ability to faithfully and beautifully convey the aesthetic and visual history of the region of the Mexican Central Valley he calls home.
Born in Tehuantepec, Oaxaca, Mexico, Rojas identifies strongly with the culture of the Záa (cloud people). The Tehuantepec ancestors believed they descended from mystical trees and animals like lizards, fish and turtles. His colorful works illustrate how the universal creator formulates a versatile world where imaginary and mythological characters and themes reign supreme.
In a relatively short time, Rojas has become a master of this tradition, and has achieved international recognition, with exhibitions traveling to the United States, Japan, France, Canada, Cuba, Argentina, and Puerto Rico.
Didier Mayés
Didier Mayés is a Mexican artist who is known for his distinctive and colorful abstract iconography. His education includes studies in the Escuela de Bellas Artes of the Universidad Benito Juarez in Oaxaca, and a degree in industrial design. He also studied ceramic arts under Juan Alberu, and art under Francisco Monterrosa. His works have been exhibited in Mexico, the United States, and Colombia.
Saúl Castro
Saúl Castro is a Mexican visual artist. Born in the city of Oaxaca, Castro studied at the School of Fine Arts in Oaxaca. In 1993, he collaborated with Master Shinzaburo Takeda in the making of an art mural in Japan, and in 1995, he entered the Rufino Tamayo workshop, where he attended several courses and was awarded a scholarship in 1997. Castro is also the founder of the Sachmo Art Center, an educational organization that offers courses and workshops to the public.
Castro's work has been widely exhibited in Mexico, Japan, Spain, Argentina and the United States. His work combines elements of abstract and figurative art in compositions that often feature marine wildlife and the deep, rich colors of his native region.
Ixrael Montes
Ixrael Montes is a contemporary Mexican artist. He was born in Jamiltepec (San José de las Flores), and moved to Oaxaca a the age of 19, to study visual arts. He specialized in painting and printmaking, and joined the Taller de Artes Plásticas Rufino Tamayo. Over the course of a 30-year career, Montes' work has been exhibited in several countries, and is held in various museums, public and private collections. Montes asserts that his work is influenced by African art and Mixtec art; the artist explains: "It is like a portal that leads toward my roots, and toward the landscapes. histories and legends of the Coast near Guerrero and Oaxaca."