Timeless Elegance: Homage to Oscar de la Renta Exhibit Opening and Panel Discussion at the Houston Public Library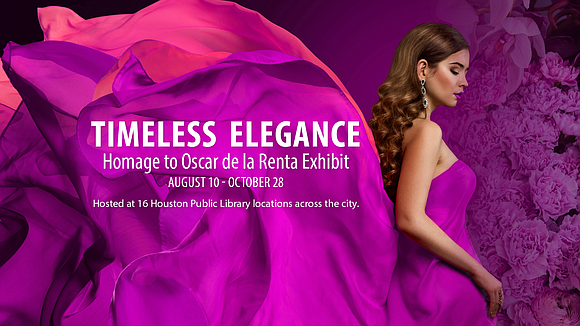 HOUSTON - Fashion enthusiasts are invited to view the fashion exhibit, Timeless Elegance: Homage to Oscar de la Renta, which showcases winning creations from Fashion Fusion, an annual competition presented by the Museum of Fine Arts, Houston (MFAH) and Houston Community College (HCC), Fashion and Costume Design Department. The panel discussion, which will be moderated by HCC's Fashion Design Professor Alex Chapman, will be held at Central Library 1st Floor Art Gallery on Sunday, August 19 at 2 PM. Panelists will include special guest, Houston designer David Peck, as well as some of the designers highlighted in the exhibit: Jing Cao, Inge Duran, David Julian Valdez, Shanda Phillips, Teresa Rangel, Ebonie Sophus, and Maria Hammond.
The exhibit and panel discussion event are both free and open to the public. Find out more about the designers and their garments at www.houstonlibrary.org/fashion-at-library!
For more information visit: www.houstonlibrary.org or call 832-393-1313
Exhibit Opening Reception and Panel Discussion
Timeless Elegance: Homage to Oscar de la Renta
Sunday, August 19 at 2 PM – 4 PM
Central Library | 1st Floor Gallery | 500 McKinney St, 77002, 832-393-1313
The panel discussion is two hours with established Houston designer David Peck and will highlight seven of the Fashion Fusion designers – their stories and inspiration.
Special Guest Panelist
Parisian trained designer David Peck studied fashion design at Ecole Parsons à Paris after beginning his career as a classical cellist, earning top honors as Designer of the Year for his thesis collection. While in Paris, David worked for renowned fashion houses such as Paco Rabanne, Junichi Hakamaki, and Robert Normand, and as a style consultant and costume designer for several films.
David's work continued in New York before moving to Houston in 2010. He is the creative director of Miles David where each garment is skillfully hand crafted and created in the Miles David factory in Houston, TX. David's designs for Miles David give elegance a delightful spin through collaborations with artists and textiles sourced from around the globe.
In addition to his work with Miles David. David serves on the Advisory Board of Directors for Theatre Under The Stars (TUTS), the Fashion Design and Merchandising Advisory Board for Houston Community College, and PS One Portfolio School in Beijing, China. He served as Chair of the Fashion Task Force for the Greater Houston Partnership for four years. His latest work as a creative consultant had him overseeing the uniform design of Hotel Ylem and Oxbow 7 at the newly opened Le Méridien Houston Downtown.
Exhibit Display: Timeless Elegance: Homage to Oscar de la Renta
August 10, 2018 – October 28, 2018
Central Library | 1st Floor Gallery | 500 McKinney St, 77002, 832-393-1313
Twenty-two garments at 15 library locations
Bracewell Neighborhood Library
Carnegie Neighborhood Library & Center for Learning
Central Library
Collier Regional Library
Henington-Alief Regional Library
Jungman Neighborhood Library
Looscan Neighborhood Library
Morris Frank, an HPL Express Library
Park Place Regional Library
Robinson-Westchase Neighborhood Library
Smith Neighborhood Library
Scenic Woods Regional Library
Stanaker Neighborhood Library
Stimley-Blue Ridge Neighborhood Library
Young Neighborhood Library