Why pancreatic cancer is so deadly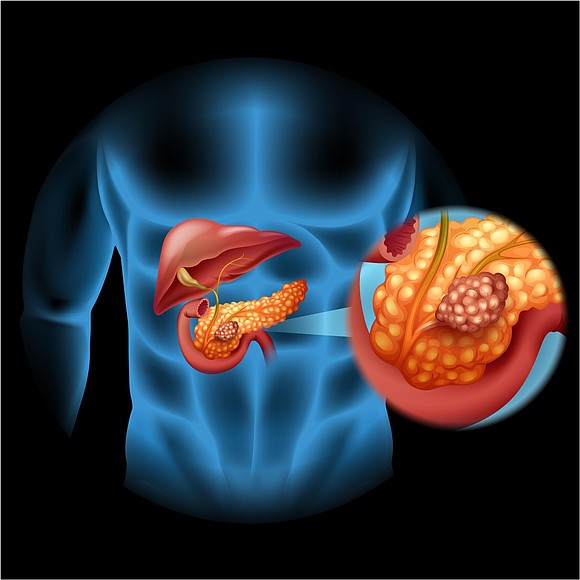 By Elizabeth Landau, CNN
(CNN) -- Pancreatic cancer is the third-leading cause of death from cancer in the United States, after lung and colorectal cancers
The lifetime risk of developing it is about 1 in 63 for men, and 1 in 65 for women. This year, about 55,440 people will be diagnosed with pancreatic cancer, and the disease will kill about 44,330 people, according to the American Cancer Society.
About 95 percent of people with pancreatic cancer die from it, experts say. It's so lethal because during the early stages, when the tumor would be most treatable, there are usually no symptoms. It tends to be discovered at advanced stages when abdominal pain or jaundice may result. Presently, there are no general screening tools.
As people age, the risk of developing pancreatic cancer goes up. Most patients are older than 45, and nearly 90% are older than 55. The average age at diagnosis is 71.
Men have a slightly higher likelihood of developing pancreatic cancer than women, which may partly result from increased tobacco use in men. In the past, when men more commonly smoked than women, the gender gap was wider.
There is also a noted association with race: African-Americans are more likely to develop pancreatic cancer than whites. Doctors don't know why, but speculate that higher rates of men smoking and having diabetes, and women being overweight, may contribute to that association.
What are the types of pancreatic cancer?
The pancreas is an oblong organ that lies deep in the abdomen, and is an integral part of both the digestive and endocrine system. It secretes hormones to regulate the body and also digestive enzymes to break down food.
There are two types of pancreatic cancer: exocrine tumors and endocrine tumors.
Exocrine tumors are the majority of pancreatic cancers, and the most common form is called adenocarcinoma, which begin in gland cells, usually in the ducts of the pancreas. These tumors tend to be more aggressive than neuroendocrine tumors, the kind that Jobs had, but if caught early enough they can be treated effectively with surgery.
Pancreatic neuroendocrine tumors constitute only 1% of all pancreatic cancers. They can be benign or malignant, but the distinction is often unclear and sometimes apparent only when the cancer has spread beyond the pancreas.
The five-year survival rate for neuroendocrine tumors can range from 50% to 80%, compared with less than 5% for adenocarcinoma.
More advanced tumors have a higher risk of recurrence, and can spread to the liver, said Dr. Steven Libutti, pancreatic cancer expert and director of the Montefiore-Einstein Center for Cancer Care in the Bronx.
Treatment options
Pancreatic cancer is usually controllable only through removal by surgery, and only if found before it has spread, according to the National Cancer Institute. Palliative care can help a patient's quality of life if the disease has spread.
Two drugs approved in 2011 may help patients with pancreatic neuroendocrine tumors. They are believed to suppress the blood supply and metabolism of the tumor cells. That's good progress since, the year before, the standard of care was chemotherapy, said Dr. Michaela Banck, medical oncologist at the Mayo Clinic, who treats patients with neuroendocrine tumors.