Legendary Basketball Hall of Famer, Isiah Thomas, and Florida Memorial University's President, Dr. Jaffus Hardrick Team Up to Announce a Prominent Men's Head Basketball Coach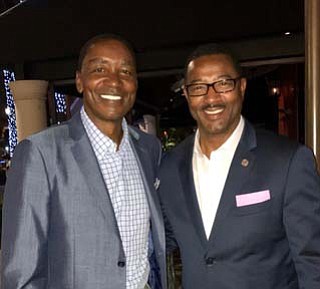 (Miami Gardens, FL, August 17, 2018) Tuesday morning, Florida Memorial University (FMU) will host a press conference to announce the appointment of a new Head Coach for Men's Basketball. This coach is well known for his work with many of today's NBA athletes. FMU's Wellness Center will be the new facility where many of these athletes will train with the new head coach. Some of the players will be joining us for the press conference.
During the press conference, Isiah Thomas and Dr. Jaffus Hardrick will launch an initiative intended to inspire successful athletes, entertainers and other influential partners to re-commit, embrace and support Historically Black Colleges and Universities (HBCU), to do the same. Lift Evr'y Voice and Sing, the Negro National Anthem, birthed at FMU, by alums J. Rosamond Johnson and James Weldon Johnson, serves as a theme of Thomas' and Hardrick's initiative: Lift Evr'y Voice.
"HBCUs are still relevant institutions and they remain committed to educating today's and tomorrow's students and preparing them to compete in the 21st Century global market place or pursue graduate degrees," said Dr. Hardrick. According to Isiah, "HBCUs are just as important as today as they were when they were founded in our society."