R.I.P. Kofi Annan, Nobel Peace Prize Winner and Former United Nations Secretary General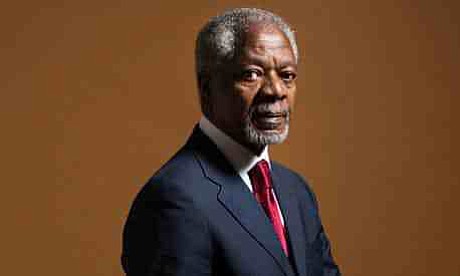 by Chris Johnston via theguardian.com
The former United Nations secretary general Kofi Annan, has died at the age of 80 after a short illness, his family and foundation announced on Saturday.
The Ghanaian was the seventh secretary general and served for two terms between 1997 and 2006. He was awarded the Nobel Peace Prize for his humanitarian work jointly with the UN as an organisation in 2001.
He died in hospital in Bern, Switzerland in the early hours of Saturday with his wife, Nane, and three children Ama, Kojo and Nina, by his side. He had retired to Geneva and later lived in a Swiss village.
Annan's foundation issued a statement on his Twitter account on Saturday that described him as a "global statesman and deeply committed internationalist who fought throughout his life for a fairer and more peaceful world."
The statement added that Annan, who succeeded Boutros Boutros-Ghali as UN leader, was a "son of Ghana and felt a special responsibility towards Africa".
The current UN secretary general, António Guterres, whom Annan appointed to lead its refugee agency, said: "In many ways, Kofi Annan was the United Nations. He rose through the ranks to lead the organisation into the new millennium with matchless dignity and determination."
The former UK prime minister Tony Blair said on Twitter that he was shocked and distressed by Annan's death. "He was a good friend whom I saw only weeks ago. Kofi Annan was a great diplomat, a true statesman and a wonderful colleague who was widely respected and will be greatly missed. My deepest sympathy go to Nane and his family," he said.
Annan was chair of The Elders, an independent group of global leaders working for peace and human rights founded by Nelson Mandela. Gro Harlem Brundtland, the former prime minister of Norway and the body's deputy chair, said she and her colleagues were devastated by Annan's death.
"Kofi was a strong and inspiring presence to us all, and The Elders would not be where it is today without his leadership. Throughout his life, Kofi worked unceasingly to improve the lives of millions of people around the world," she said.
Kumi Naidoo, Amnesty International's secretary general, said the world had lost a great leader: "Kofi's dedication and drive for a more peaceful and just world, his lifelong championing of human rights, and the dignity and grace with which he led will be sorely missed in a world which needs these characteristics more than ever."
Born in Kumasi, Ghana, on 8 April 1938, Annan joined the UN system in 1962 as an administrative officer with the World Health Organization in Geneva. He later served with the Economic Commission for Africa in Addis Ababa, the UN Emergency Force in Ismailia, the UN high commissioner for refugees in Geneva and in several senior posts at its headquarters in New York.
Before becoming secretary general, he was under-secretary general for peacekeeping and also served as special representative of the secretary general to the former Yugoslavia between 1995 and 1996.