Syrians in Idlib brace for the war's final showdown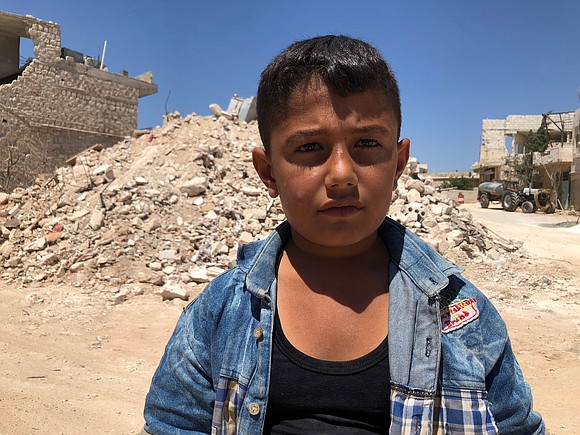 By Gul Tuysuz, Arwa Damon and Brice Laine, CNN
(CNN) -- Locals in the village of Urem Kubra gesture to a man standing surrounded by rubble.
"He can't talk much. He's in shock," the village elder said, referring to 33-year-old Ibrahim Abu Naif.
On the wreckage of what used to be his house, Ibrahim set aside a neat pile of children's clothing he had dug out of the debris. He lifted a blue jacket with "sports" emblazoned on the back, and brought it to his face, taking in a whiff as he did so.
"This, this was Nayef's. He's gone," Ibrahim said of his 3-year-old son.
He pulled out more clothing: a red and white knit cardigan, a pair of tights with a Christmas pattern and a striped t-shirt. The clothes belonged to four of his children who were killed in last week's airstrikes.
He has one surviving child.
"Hatice. Hatice is alive and living at her grandparents. She has a head wound," Ibrahim told CNN, holding one of her pink sweaters.
When war planes struck Urem Kubra, a rebel-held village just outside Idlib province on Friday night, most of the women in the village were home with children, preparing dinner. The planes hovered in the air for around 10 minutes before the first strikes, witnesses said. The jets then swung back around, hitting the town two more times. More than 40 people were killed in 30 minutes, the majority of them women and children.
Ten-year-old Ibrahim Dervish wandered aimlessly around the Urem Kubra town square, a few meters from the ice cream shop where he and his friends used to play.
"I miss Mohammad Hasan, Mays and Omar," he said, listing his friends' names. They were all killed in the strike.
The ice cream shop was reduced to a heap of rubble. Dervish said he used to get vanilla and cherry flavored ice cream in a cone for 100 Syrian pounds ($1). The shop owner, he said, often gave them freebies.
"I'm sad that we don't have the shop anymore and that my friends are dead," Dervish said.
It is a scene that has played out across Syria for more than seven years. Idlib is one of several de-escalation zones agreed on by some of the war's main international actors, Russia, Turkey and Iran. Yet it has been repeatedly bombed, with airstrikes target alleged rebel posts, medical facilities and residential neighborhoods.
Last rebel stronghold
The Syrian government swept through rebel-held areas over the past year. Many residents and fighters from across Syria were transferred to Idlib and the northern countrysides of nearby provinces as part of opposition agreements with the government. As a result, the population of the northwestern province has doubled since the start of the war, and it is a bastion of Syria's opposition fighters.
But this is the last rebel stronghold, and the fighters and residents here have nowhere else to go.
There are also international interests regarding Idlib. Turkey is heavily involved here and insists it will protect the area against a government incursion. Still, the Russian-backed Syrian government has trained its sights on the province and seems intent on crushing the rebels. Fighting is incessant, and Idlib's ultimate fate is unknown.