Catholics in the pews, unleash your anger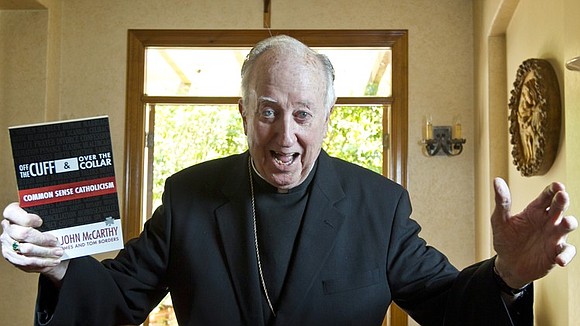 The pontiff called for prayer and penance, fasting by the faithful, and decried a culture of clericalism, which he said "helps to perpetuate many of the evils that we are condemning today. To say 'no' to abuse is to say an emphatic 'no' to all forms of clericalism."
The solution, it seems to me, must come from inside the Church but outside the clergy. We lay Catholics are taught from earliest childhood to -- in the words of the old saying-- "Pray, pay and obey." No more.
Father James Martin, the Jesuit writer on all things Catholic and a consultant to the Vatican's Secretariat for Communications, communicated this clearly. In a recent op-ed in the New York Times, Martin roused the faithful, exhorting lay Catholics to "Speak to your pastor, write to your bishop, express your anger to the Vatican's nuncio in this country. Most of all, work in any way that you can for real change, even at the cost of being seen as a troublemaker."
Reformers from outside the priesthood -- especially women -- must be empowered. After the clergy abuse revelations of the early 2000's, the Catholic Church in America appointed a lay-controlled National Review Board. Its chair, then-Oklahoma Gov. Frank Keating, is a former FBI agent. He described the behavior of the bishops and others in positions of authority -- resisting subpoenas, refusing to reveal the names of rapists, denying the extent of the scandal -- as akin to the conduct of the Mafia. He resigned from the panel, saying, "My remarks, which some bishops found offensive, were deadly accurate. I make no apology."
In an interview this week with Rod Dreher of The American Conservative, Keating, himself a conservative Republican, remained unapologetic. Noting the revelation that Washington Cardinal Theodore McCarrick faces allegations ("credible and substantiated" said church officials) of abuse of a minor, Keating said, "Surely people knew about it, but no one talked. That was the cosa nostra, not my church. I found that incredible that that could occur. Priests that were misbehaving were outed, but not bishops, not the cardinal? That's hypocrisy at its worst level."
Like so many Catholics, I am reeling. I am praying that Pope Francis will institute reforms with teeth -- yet I also believe that the Church is the People of Christ, and so the laity must lead. One lesson from the Pennsylvania report is, there are not enough Bishop McCarthys, sadly. But there are a lot of Frank Keatings.
The amount of power vested in lay reformers will tell us how serious the church is about truly addressing the scandal.