Houston Chamber Choir presents This Is Why I Sing to open 23rd season on Sept. 29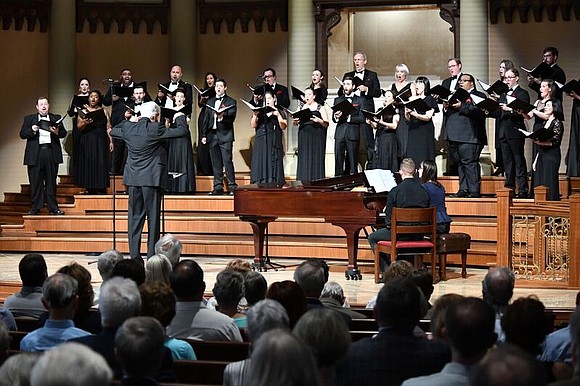 Houston Chamber Choir's 23rd Season opens with a concert that illustrates the joy of musicians, highlighting our singers' favorite pieces. These are the compositions that remind us why we love to sing. This will be an evening of "the best of the best" by composers like Morten Lauridsen, Eric Whitacre and Bob Chilcott, along with John Tavener and Arvo Pärt. The Kinder HSPVA Chorale, under the direction of Shannon Carter, and the Parker Elementary School Advanced Chorus, under the direction of Marianna Parnas-Simpson, will be our featured guests as they present pieces that have kindled their youthful love for singing. The evening will end with a glorious performance featuring all three choirs singing together.
Subscribers are invited to attend a private pre-concert reception to celebrate the beginning of the 23rd season and will have the opportunity to meet and speak with members of the Houston Chamber Choir and Artistic Director, Robert Simpson.
Immediately following the concert, all ticketed patrons are encouraged to attend the Season Opener After-Party hosted by The Luminary Society's Young Professionals. Details will be provided to ticketholders closer to the concert.
The professional men and women singers of the Houston Chamber Choir will be led by conductor Robert Simpson. He is founder and artistic director of the Houston Chamber Choir and Canon for Music at historic Christ Church Cathedral (Episcopal in Houston). He also serves on the faculty of the Rice University Shepherd School of Music as Lecturer of Church Music.
The event takes places on Saturday, Sept. 29 from 7:30 p.m. – 9 p.m. at South Main Baptist Church, 4100 Main St., Houston, 77002.
There is ample free parking in the church's parking lot. The concert will be in the sanctuary. Will call opens at 6:45, with seating beginning at 7 p.m. Tickets are $10 for students, $36 for seniors and $40 regular price. More information can be found at houstonchamberchoir.org or by clicking here for tickets. Phone number is 713-224-5566.