Astros Release 2019 Schedule
Season to begin on the road on March 28 at Tampa Bay; Home opener is April 5 vs. Oakland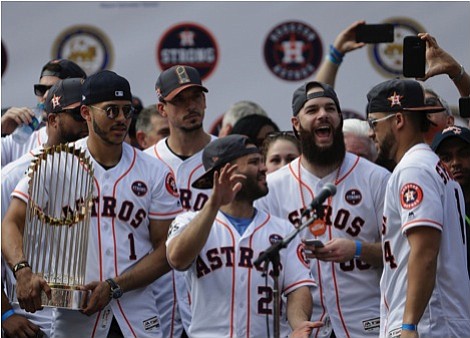 HOUSTON, TX -- The Houston Astros will begin the 2019 season on the road, taking on the Tampa Bay Rays at Tropicana Field on Thursday, March 28. This will mark the first time that the Astros have faced the Rays in a season opener. The Astros will enter 2019 having won six consecutive season openers, which is a club record. The 2019 season will be the 58th in franchise history.
The Astros Home Opener at Minute Maid Park will be on Friday, April 5 vs. the AL West rival Oakland A's. Major League Baseball released the master schedule for the 2019 regular season today.
As always, the 2019 Astros home schedule will be highlighted by many promotional events, popular giveaway items and several attractive opponents, including the Chicago Cubs, who will make their first visit to Houston since 2016 when the Astros host them for a three-game series, May 27-29. Former NL Central rivals Milwaukee (June 11-12) and Pittsburgh (June 25-27) are also scheduled to visit Minute Maid Park in 2019.
The Astros will resume the Lone Star Series vs. the rival Texas Rangers with a four-game set, May 9-12. The Rangers will return to Minute Maid Park for a three-game weekend series, July 19-21, and for a two-game set, September 17-19.
Additional highlights to the 2019 schedule include annual visits from the New York Yankees and Boston Red Sox, two of the most storied franchises in baseball. The Bronx Bombers will be in Houston for a three-game series, April 8-10, while the Red Sox are scheduled to visit Minute Maid Park for a three-game weekend series, May 24-26.
ASTROS TICKET INFO.
Season Tickets, group tickets and individual game suite rentals for the 2019 season, as well as 2019 Season Ticket packages that guarantee 2018 Postseason Priority Access, are on-sale now by calling the Astros ticket department at 1-800-ASTROS2 or by visiting www.astros.com/tickets. Please note that information pertaining to the on-sale dates for 2019 Astros individual tickets and for promotional events and giveaway items will be announced at a later time.
Please see attachment for the full 2019 Astros regular season schedule. Game start times will be announced in the upcoming weeks. Schedule and times are subject to change, per Major League Baseball.