Nick Cannon On the Art of Ambition & Wild 'N Out Live!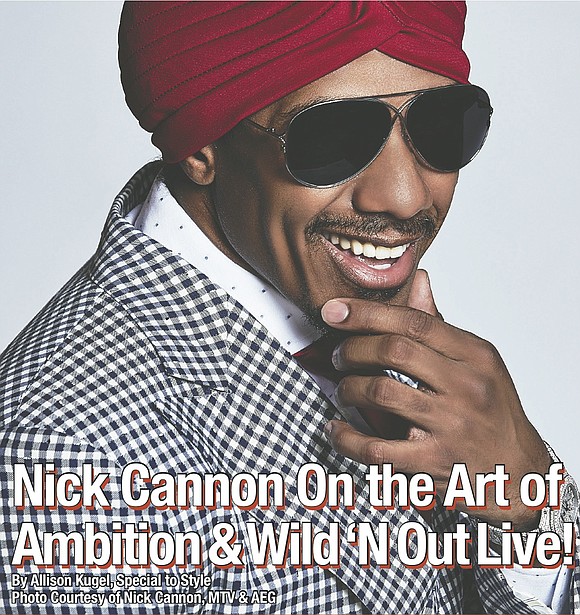 In this personal and eye-opening interview with Nick Cannon, the multi-hyphenate and truly self-made multi-millionaire television personality – actor – musician – deejay – media mogul opens up about transcending his childhood circumstances to become one of the most successful forces in all areas of the entertainment industry. As a teen, armed only with creativity and drive, Cannon was compelled to propel his family out of financial instability. What was initially born out of necessity, flourished into one of the most epic and aspirational success stories of recent Hollywood-lore. Now add dedicated student at Howard University to his resume. Nick Cannon is unstoppable.
Among myriad other projects, Cannon is taking his hit long-running MTV series, Wild 'N Out, on the road with a twenty-five date North American tour, running from August 16th through October 6th. Cannon and the Wild 'N Out cast are doubling down on their MTV antics with a live and wilder than ever, uncensored version of the television show that hybrids improv, rap battles, and hip-hop culture.
In this candid conversation, we go into taking Wild 'N Out on the road, family, and how he protects his personal space in the storm of celebrity.
Allison Kugel: You're now taking your hit MTV show Wild 'N Out on the road with your Nick Cannon Presents Wild 'N Out Live tour. The show is all about poking fun at others and being able to laugh at yourself. How do you deal with people who take themselves too seriously and have trouble laughing at themselves?
Nick Cannon: I don't feel I have to necessarily deal with or construct a rapport in that situation. With Wild 'N Out you know what you're going to be presented with because that is the theme of the show, not taking yourself too seriously and having a good time. People who may not see it that way, I'd approach it delicately (laughs). But usually, if they are coming on the show they want to be a part of it and they know what it is at this point, because our show has been on for so long. There have been times where people will ask us not to mention certain things, like, "Stay away from this or that," so we respect that. We always want to be as respectful as possible, especially if there is anything that someone is sensitive about.
Allison Kugel: When it comes to a rap battle or a roast, where do you think the line should be drawn, or is there no line?
Nick Cannon: I believe it's all about humor. If it's said in a spirit of humor and it's supposed to be funny, then nothing's off limits. If it's just to be mean or demeaning and disrespectful, no one wants to see someone get bullied; that's never okay. Our show is all-inclusive and giving an opportunity for everyone to laugh at themselves. If we're not laughing, we're crying, right? The idea is to say, "Hey, let's laugh and joke about our differences, embrace those differences, and make light of it in order to get over it. If it becomes something hurtful, that's too far, and we're never looking to do that.