Kelli Ward said McCain announcement about ending treatment was timed to hurt her campaign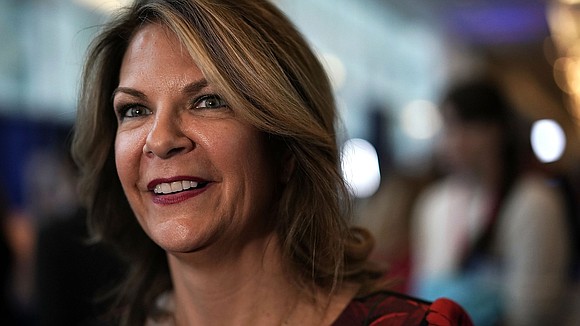 By Eric Bradner, CNN
(CNN) -- As the nation mourns the passing of Sen. John McCain, Arizona Republicans are holding a Senate primary Tuesday in which one of the candidates suggested the announcement that McCain was stopping medical treatment was timed to hurt her campaign.
Kelli Ward, a former state senator who has courted the far-right during her campaign, suggested on Facebook Saturday that McCain's family released its statement saying the senator was ending medical treatment for brain cancer was timed to hurt her chances of winning Tuesday's primary.
Ward staffer Jonathan Williams posted that he wondered whether McCain's statement was released "to take media attention off" Ward's campaign, which was beginning a statewide bus tour. "I'm not saying it was on purpose but it's quite interesting," Williams wrote.
"I think they wanted to have a particular narrative that they hope is negative to me," Ward responded, according to a screenshot posted by the The Arizona Republic.
The news broke that McCain had died hours after Ward's comment. Ward's campaign did not respond to a request for comment on the Facebook post.
On Monday, less than two days after McCain died of brain cancer, Ward tweeted, "Political correctness is like a cancer!"
The attacks and insensitive remarks about McCain are just the latest in a heated primary race that has seen all three candidates align themselves with President Donald Trump, who attacked McCain relentlessly for three years, rather than McCain or retiring Sen. Jeff Flake, whose seat they are seeking to fill.
Their decisions show how the path McCain cut through the Trump era -- breaking with the President on foreign policy, health care, immigration and more -- complicated his relationship with diehard Republicans in a state where the GOP electorate is now demanding fealty to Trump.
Ward faces Rep. Martha McSally and former Maricopa County Sheriff Joe Arpaio in Tuesday's primary for Arizona's other Senate seat. McSally is seen as the strongest general election candidate to face likely Democratic nominee, Rep. Kyrsten Sinema.
McCain fended off Ward's challenge in a 2014 primary. Since then, she's made a series of insensitive comments as McCain battled brain cancer.
She called on McCain to step down last year, calling him old and near "the end of life" before his diagnosis and said afterward he should resign "as quickly as possible."
Ward closed the race barnstorming the state on a bus tour with right-wing media personalities Mike Cernovich and Tomi Lahren, as well as Rep. Paul Gosar.
"Are we going to elect another senator cut from the same cloth as Jeff Flake and John McCain?" Ward asked the crowd at a campaign event Friday, eliciting shouts of "No!"
After McCain's death, Ward tweeted: "We are saddened to hear of the passing of @SenJohnMcCain. His decades of service will not be forgotten by the men & women of Arizona. May God grant the McCain family comfort and peace during this difficult time."