Pope Francis silent on Archbishop's call for him to resign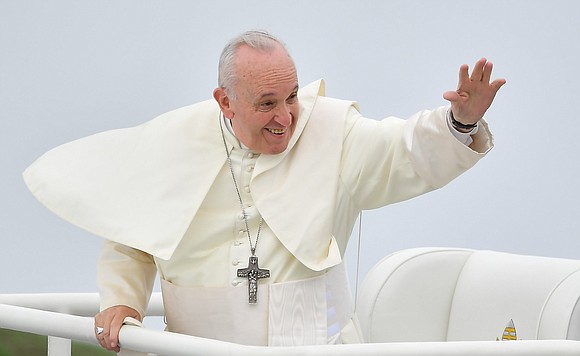 By Delia Gallagher and Sheena McKenzie, CNN
(CNN) -- Pope Francis says he "will not say a single word" on a former archbishop's call for him to resign over his handling of sexual abuse allegations against a prominent cardinal in 2013.
In a statement seen by CNN on Sunday, former Archbishop and Vatican ambassador to the US Carlo Maria Vigano said he told the Pope about allegations of sexual abuse against high-profile American Cardinal Theodore McCarrick five years ago, but that the Pontiff did nothing about it.
McCarrick, 88, who once led the Archdiocese of Washington and was a force in American politics, resigned last month after a decades-old allegation of sexual abuse of a teenage altar boy. The Pope also ordered McCarrick's suspension from public ministry.
Vigano called for the Pontiff to resign over his failure to act. "Pope Francis must be the first to set a good example to Cardinals and Bishops who covered up McCarrick's abuses and resign along with all of them," Vigano said in a lengthy statement dated August 22.
Speaking to the press Sunday on his flight back to Italy from Ireland, Pope Francis said, "I will not say a single word on this," although he added that after some time passes, "I may speak."
The Pope told reporters he believes the statement from Vigano speaks for itself. "I read the statement this morning, and I must tell you sincerely ... read the statement carefully and make your own judgment," he said.
'Serial predator'
"He [Pope Francis] knew from at least June 23, 2013, that McCarrick was a serial predator," Vigano said in his statement, adding, "although he knew that he was a corrupt man, he covered him to the bitter end."
"It was only when he was forced by the report of the abuse of a minor, again on the basis of media attention, that he took action [regarding McCarrick] to save his image in the media," Vigano continued.
A source close to Vigano -- who retired in 2016 at age 75 -- confirmed the letter is genuine.
Cardinal Wuerl rejects allegatons
Vigano also said Washington Cardinal Donald Wuerl was aware of reports of sexual abuse by his predecessor McCarrick.
"Cardinal Wuerl, well aware of the continuous abuses committed by Cardinal McCarrick and the sanctions imposed on him by Pope Benedict, transgressing the Pope's order also allowed him to reside at a seminary in Washington D.C.," said Vigano.
"In doing so, he put other seminarians at risk," he added.
Wuerl rejected Vigano's allegation in a statement published by the Catholic News Agency on Sunday.
Edward McFadden, spokesperson for archdiocese of Washington, disputed the notion that Wuerl ignored allegations about McCarrick.
"In spite of what Archbishop Vigano's memo claims, Cardinal Wuerl did not receive any documentation or information during his time in Washington regarding any actions taken against Archbishop McCarrick," he said.
But the bishop of the Diocese of Tyler, Texas, told his parishioners he thinks the allegations are "credible."