Primary elections in Arizona and Florida: What to watch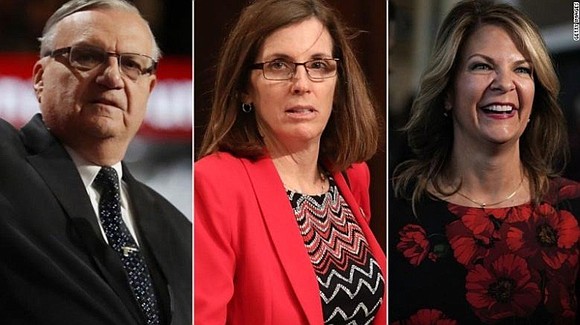 What to watch tonight
ARIZONA (polls close 10 p.m. ET)
Flake's retirement after just one term gives Democrats one of their best shots at picking up a Senate seat. The GOP establishment hopes McSally can hold off far-right candidates Ward and the controversial Arpaio. Trump has yet to endorse a candidate in the race, having positive things to say about all three of them. On the Democratic side, Sinema is expected to easily defeat attorney Deedra Abboud and is already campaigning for November. Republican Gov. Doug Ducey could also be vulnerable this fall. Since the six-day teachers strike this past spring, education has emerged as a key issue in the race. Democrat David Garcia, an Arizona State University professor, is focusing on his experience in the area, but he faces tough challengers from State Sen. Steve Farley and Kelly Fryer, the CEO of the YWCA Southern Arizona.
CNN views more than half of Arizona's congressional districts as in play this year, with the 2nd District vacated by McSally as the most likely to flip. Hillary Clinton won the district in 2016, giving a strong start to either former Rep. Ann Kirkpatrick or 2016 nominee Matt Heinz, who are locked in a tight race for the nomination. The winner will be an immediate target of Republicans looking to keep control of the House.
FLORIDA (all polls closed at 8 p.m. ET)
Nelson's seat is vital in the battle for Senate control; both he and GOP Gov. Rick Scott are expected to skate through the primary to the general. The big drama will be in the primaries to replace Scott. On the Republican side, DeSantis hopes an endorsement from Trump will outweigh Putnam's attacks on DeSantis as an out-of-touch creature of Washington. On the Democratic side, Former Rep. Gwen Graham and Philip Levine, the former mayor of Miami Beach, look to be the front runners for the Democratic nomination. Tallahassee Mayor Andrew Gillum could surprise Democrats here. Democrats think any of the three can win, pointing to the slim margin they lost by in 2014. In the House, keep an eye on the 27th District being vacated by retiring GOP Rep. Ileana Ros-Lehtinen. CNN rates the race Lean Democrat. In the Democratic primary, former HHS Secretary Donna Shalala faces tough challenges from State Rep. David Richardson and Michael Hepburn, a former academic adviser at the University of Miami. On the Republican side, the endorsement from the Miami Herald could propel former Doral councilwoman Bettina Rodriguez Aguilera, who claims to have been abducted by aliens, to a stronger-than expected finish as she and several other Republicans try to catch front-runner Maria Elvira Salazar, a former TV reporter. CNN ranks eight Florida races as vulnerable in November, only one of which is currently held by a Democrat.
OKLAHOMA (all polls closed at 8 p.m. ET)
Runoff primary races in Oklahoma don't normally get a lot of attention, but the Sooner State could be see a big victory for Democrats this year. Republican Gov. Mary Fallin's popularity has fallen dramatically in her final months in office, giving Democrats some optimism that former state Attorney General Drew Edmondson could be her replacement. Democrats describe Edmondson's time in office as 'someone who fights for the little guy.' Former Oklahoma City Mayor Mick Cornett and Tulsa businessman Kevin Stitt will face off in the Republican runoff Tuesday. Democrats admit Cornett's time in office in one of the state's biggest cities would put up a stronger fight in the fall. Stitt's business practices have come under scrutiny, giving Democrats hope should he prevail over the former mayor, they will have a strong chance to win.