Actress Regina King Shines in Seven Seconds on Netflix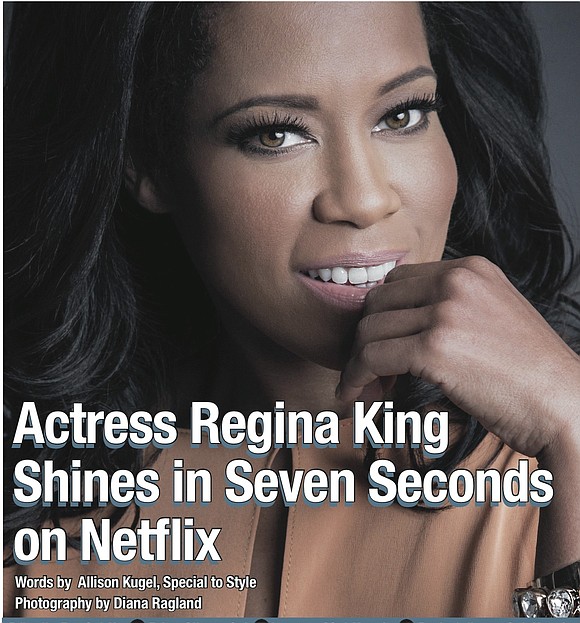 Allison Kugel: While you were shooting Seven Seconds, did you think about the parents of Trayvon Martin, Philando Castile, Michael Brown, Tamir Rice and so many young men who've lost their lives in similar circumstances? And did you feel a responsibility to reflect these parents' pain in your performance?
Regina King: There was a responsibility to accurately portray their pain, their lives, and their stories, absolutely.
Allison Kugel: Do you think a series like Seven Seconds has the power to impact hearts and minds for change, or to simply reflect what is going on in society?
Regina King:I think both. What's reflective for me is not reflective for you. Seeing it in a television show or in a movie creates an opportunity for each of us to see the other's perspective. I feel that the series American Crime (the ABC series for which King won an Emmy) was very similar in that way.
Allison Kugel: Do you take a role like this home with you?
Regina King: I tried not to take it home with me. But again, a bit of this lives with you. It is the narrative of a part of the fabric of what America is. Unfortunately, you are always living it. It took a lot out of me; I'll be honest. It was the closest to an experiential role I've ever had. I've known people who have been victims of police brutality, but no one who was closer than a friend or a distant family member. Because it was a friend or a distant family member, I wasn't with them in their day-to-day struggle of what that experience brings. You go through life hoping that you never personally have an experience like that, but you know that the odds are greater than not that you will, because of who you are. It's crazy to even say this, but you feel blessed or lucky that your child has made it to twenty-two (King is referring to her 22-year-old son, Ian).
Allison Kugel: What is so remarkably upsetting about your statement is that even if you are regarded by society as successful, you are thanking God that your son has made it to the age of twenty-two.
Regina King: Made it to twenty-two without having a criminal record, and without having an experience with the police where you may not survive; you may not come home. Unfortunately, that is something you feel gratitude for. He has had an experience with the police pulling him over, and him having to sit down on the curb. He was let go after they ran his license plate and his ID. He was pulled over for being nineteen and driving his girlfriend home. That's not a normal reason to be pulled over.
Allison Kugel: Let's talk about your most recent Emmy nomination for Seven Seconds. Now that you have an Emmy win from 2015's American Crime, is the pressure off somewhat for this upcoming ceremony, or are the nervous butterflies still there? And what's the feeling in your body when you're sitting there listening to the names of the nominees being called out?