Houston Business and Community Leader Deavra Daughtry Graduates from Exclusive International Executive Program at Harvard Business School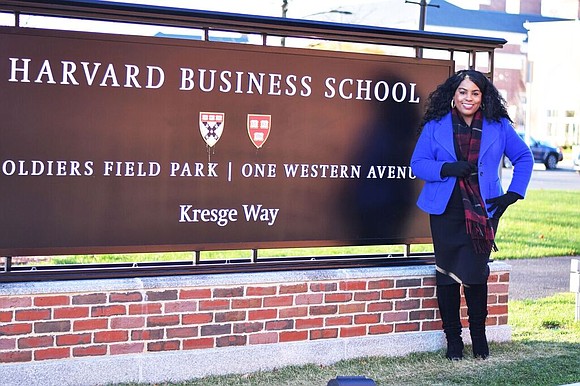 HOUSTON (December 3, 2018) Houston self-made business woman and community leader Deavra Daughtry recently graduated with a certificate from the exclusive Owner/President Management Program (OPM) at Harvard Business School alongside international business owners. Participants represent a diverse range of organizations from around the world and hold dual roles as owner and CEO or Managing Director of firms with annual sales ranging from several million to billions of dollars.
Daughtry is the President and CEO of Excellent Care Management, one of the nation's largest personal in-home care agencies. After caring for her grandmother and friend, Daughtry was inspired to care for and help others. With only a few hundred dollars she founded Excellent Care Management in 1996 with a single employee. Now with over 1,200 employees, Daughtry is an innovative and diverse business woman. She is also the CEO of Excel E Care Home HealthCare and Purpose to Blessing Productions, as well as Owner and President of Platinum Results Marketing and International Décor & Events.
Overcoming the odds, she has emerged to be one of Houston's top successful business owners. Motivated to give back and never forget where she came from, Daughtry formed the Texas Women's Empowerment Foundation (TWEF), serving as a catalyst for families to gain the necessary tools toward achieving and maintaining a true sense of empowerment—being inspired to reach their personal and professional goals. In 2006, Daughtry donated $1 million to build and develop the Empowerment Community Center. Additionally, she has raised and donated more than $350,000 in TWEF youth scholarships.
Taking the next step as an entrepreneur who is always eager to learn and be exposed to other like-minded business leaders from around the world, Daughtry enrolled in the OPM at Harvard Business School.
"The OPM Program is unparalleled in the world. We leverage the tremendous global convening power of the Harvard Business School to bring together high impact owner-managers to share, influence, and learn from each other." Dobbin O. Bookman, Director-OPM Harvard Business School.
The rigorous program spanned over three calendar years and proved to be one of the most intellectually challenging and personally rewarding experiences of Daughtry's life. Established more than 50 years ago, OPM is taught by Harvard Business School's faculty, focusing on the frameworks, technology, and strategic tools essential for success in today's competitive global business environment.
OPM alumni and celebrity CEOs include Record Executive - LA Reid, TV Producer - Tyra Banks, Owner of Essence Magazine and Founder of Sundial Brands - Richelieu Dennis, and Celebrity Chef and Restaurateur - Wolfgang Puck just to name a few.
Daughtry said: "It was truly a phenomenal experience being accepted into the program and attend classes at such a prestigious university with so many gifted and culturally rich international business leaders. The program was intense, but extremely enriching, in that I was able to gain a wealth of friendships and have the opportunity to meet other CEOs and tap into their vast array of experiences and business knowledge. The exchange of information gave all of us an opportunity to learn and grow together. I was encouraged by HBS Faculty Chair, Ananth Raman to expand and "Take A Shot".