It was a Jolly-filled Night at Joy to the World!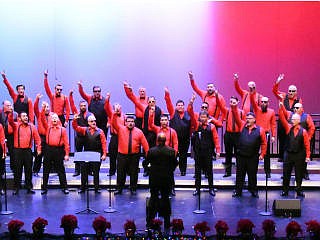 The Bayou City Performing Arts presented Joy to the World, a holiday concerto commemorating 40 fabulous seasons. It was a special night featuring the Gay Men's Chorus of Houston and the Bayou City Women's Chorus held on National Worlds Aids Day. It celebrated inclusivity, diversity, and the spirit of Christmas while reflecting on the worldwide AIDS crisis and how we still have much too accomplished with awareness and prevention.
The night's program included over 17 choral hymns from around the world. Kenneth Clayborne, who has over 33 years of conducting experience, impeccably directed the concert. He also oversaw the music department of the oldest African American Methodist church in Houston and serves as a member of both the Texas Choral Directors Association and the American Choral Directors Association.
Stand out songs of the night were Noel, What Child is This, Pat –a Pan Salsa, We Three Kings, This Holiday, and Joy To the World where the entire ensemble beautifully harmonized together.
The program ended encouraging attendees to go with kindness and with the current climate of our nation that was a message well received. Love and acceptance to all are what the world really needs right now and I couldn't agree more!
Offer your support and learn more about performances and programs by the Bayou City Performing Arts by visiting their website at www. Bcphouston.org.