The Houston Choral Society Chamber Choir Presents Handel's Messiah Friday, December 21, 2018 at 7:30 PM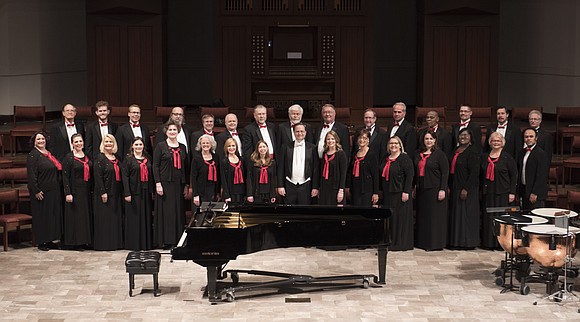 Houston, TX – The Houston Choral Society's Christmas concerts are always an audience favorite and have become an annual tradition for hundreds of Houston families. This year, the HCS Chamber Choir presents Handel's Messiah, on Friday, December 21 at 7:30 PM, at the Tallowood Baptist Church Chapel.
Dr. Kevin M. Klotz, Artistic Director, conducts what is considered to be one of the world's most beloved musical works. A triumph of music and text, Handel's Messiah is a matchless December tradition. In this oratorio, Handel includes virtuosic solo movements along with dramatic and profound choruses that tell the story of Christ.
"The Houston Choral Society Chamber Choir is thrilled to present the Christmas portion along with the popular chorus, 'Hallelujah,' of Handel's Messiah," said Dr. Klotz. The performance features the Chamber Choir, a select ensemble from within the Houston Choral Society, and will be accompanied by a professional chamber orchestra composed of musicians from the Houston area. Featured soloists are talented HCS chorus members soprano Veronica Frankeny, alto Azuree Bernard, tenor Taylor Brewer, and bass George Engelmann.
Ticket prices are $25 for adults, $20 for seniors/students/veterans, and $10 for children ages 5 and younger. Group rates are available. Tickets are available online at www.houstonchoral.org. Tickets may also be purchased at the door or by calling 832-478-6986. Tallowood Baptist Church is located at 555 Tallowood Rd, Houston, TX 77024 near Town & Country Village and Memorial City Mall. The chapel is an intimate venue and there are only 300 tickets available for this concert.
About Houston Choral Society
The Houston Choral Society (HCS), under the direction of Dr. Kevin M. Klotz, is a not-for-profit professional-quality civic chorus known for its stirring and engaging performances. HCS concerts feature versatility in music styles including classic works, folk songs, show tunes and their ever-popular Christmas programs. The chorus sang Haydn's Lord Nelson Mass at Carnegie Hall this past June. HCS has completed five international tours performing in England/Scotland, Italy, Hungary/Austria/Czech Republic, Ireland, and Germany/Austria. The Houston Choral Society is a member of Chorus America, an association of professional and volunteer vocal ensembles, and is funded in part by grants from Harris County and the Texas Commission on the Arts through the Houston Arts Alliance. For more information or to purchase tickets, please visit the HCS website at www.houstonchoral.org or call 832-478-6986.