Louisiana Fur & Wildlife Festival Southeast Tourism Society Top 20 Event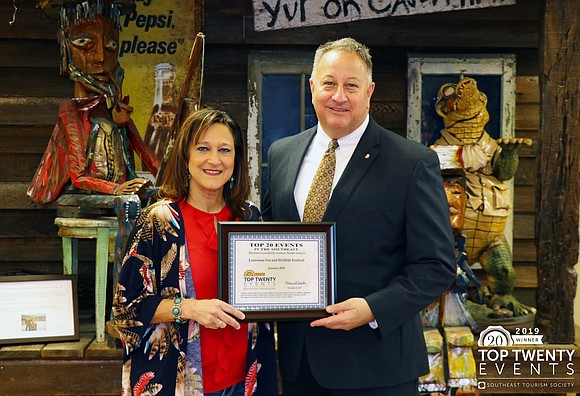 The Southeast Tourism Society (STS) recently honored the Louisiana Fur & Wildlife Festival as a 2019 Top 20 Event for the month of January.
The festival will be held Friday–Saturday, Jan. 11-12, in Cameron, LA with plenty of activities for festival goers, including parades, pageants, a 5K run and 1 mile fun walk, as well as dances, Cajun music, a gumbo cook-off, exhibits and a carnival. You can also check out unique contests like duck and goose calling, trap setting, nutria and muskrat skinning, oyster shucking and skeet shooting, and always a favorite among hunters are the dog trials. These contests and more make this a memorable experience for the whole family and a reason why people keep coming back to one of Southwest Louisiana's, "oldest and coldest" festivals. This year's festival will honor the cattle industry.
The Southwest Louisiana Convention and Visitors Bureau is a member of STS, an organization that promotes travel to and within the southeastern part of the United States. The bureau nominates all area fairs, festivals and events quarterly. The STS Top 20 Events marketing program highlights the "best of the best" from submitted entries.
Events are selected from each of the following STS member states: Alabama, Florida, Georgia, Kentucky, Louisiana, Mississippi, North Carolina, South Carolina, Tennessee, Virginia and West Virginia. The Top 20 Events publication is sent to over 1,600 media outlets each quarter, including web, magazines, radio stations, TV stations, AAA publications and newspapers. The combined circulation of organizations using the publication is well into the millions. Therefore, the potential media coverage of these events has made the Top 20 Events list a coveted honor.
For more information, contact the Lake Charles/Southwest Louisiana Convention and Visitors Bureau at (337) 436-9588, or go to www.VisitLakeCharles.org.