Gifts for the Liquor Aficionado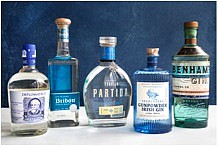 Give the gift of holiday "spirits" this year to celebrate an end to 2018 and the beginning of 2019. These beautifully crafted bottles are a great gift idea for the perfect hostess, liquor aficionado, or that someone that simply likes to enjoy a perfectly crafted cocktail. Below are some brands we have tasted (and approve of!). Included are recipes that can either be gifted with the bottle or perhaps you want to try them for yourselves. Happy holidays and don't forget – "Please drink responsibly."
Holiday Honey
(www. drumshanbogunpowderirishgin.com)
2 oz. Drumshanbo Gunpowder Irish Gin ($36.99)
¾ oz. Fresh lemon juice
¾ oz. Golden Blossom Honey
Directions:
Shake all ingredients in a shaker with ice
Strain into a chilled cocktail glass
Garnish with a lemon twist
Chocolate Peppermint Cookie
¾ oz. BribonTequila ($24.99)
1 oz. Peppermint Schnapps
¾ oz. Godiva® Liqueur
1-1/2 oz. Cream
Directions:
Rim martini glass with chocolate syrup and crushed candy canes
Shake ingredients in a shaker with ice

Strain into martini glass
Diplo Daiquiri
1.5 oz Diplomático Planas ($32.99)
.75 oz lime juice
.25 ml simple syrup
Directions:
Add all ingredients to a stirring glass
Fill with ice
Stir and strain
Garnish with lime wedge
Premesi Wines
Moscato Lemonade
1 Premesi Moscato d' Asti ($30)
Ice
6 cups of Pink Lemonade
Sliced Lemons and Strawberries
Optional: splash of Strawberry Vodka
Directions:
Pop ice into a pitcher
Drop in lemon and strawberry slices
Fill with The Naked Grape Moscato and pink lemonade, adjusting mix to taste
Garnish glasses with lemon and strawberry slices if you're feeling fancy
Optional: add a splash of strawberry vodka for an extra kick of strawberry-flavored goodness
Sparkling Pomegranate Orange Sangria
1 Premesi Pinot Grigio ($30)
2 cups pure pomegranate juice
1 cup orange liqueur
2 oranges, 1 juiced and 1 sliced
1 apple, cored and sliced
1/2 cup pomegranate seeds
20 ounces moscato (or sparkling water)
fresh mint for garnish
ice for serving
Directions:
In a large pitcher, add white wine, pomegranate juice, orange liqueur, and juice of 1 orange. Stir to combine.
Add the sliced fruit and pomegranate seeds. Store in refrigerator until ready to serve.
When ready to serve, add champagne (or sparkling water). Fill cups with ice, pour in sangria and garnish with fresh mint. Serve immediately and enjoy!