Hawaii's best beach hikes
By Sara Stewart, CNN
(CNN) -- Let's face it: No matter how long you go for, a trip to Hawaii is always going to feel too short.
For the adventurous, expeditions that combine beaches and hikes can help make the most of your way-too-short travel time in this Polynesian paradise.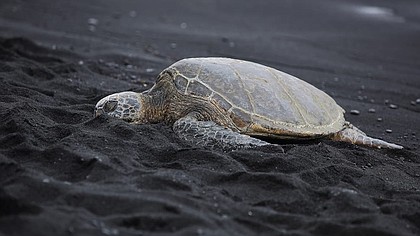 Ehukai Pillbox Hike, Oahu
You don't have to be an aspiring Kelly Slater to make a pilgrimage to the reef break at Banzai Pipeline. In fact, it's a lot less life-endangering to keep your feet planted in the sand and watch the monster waves from the shore at Ehukai Beach Park.
Pipeline, on Oahu's North Shore, is one of the world's most famous surf breaks. Its perfect, barrel-shaped waves have made the careers of countless pro surfers -- and claimed the lives of others. It is, quite simply, one of nature's most awesome spectacles.
Yet driving along the meandering Kamehameha Highway, you could blink and miss Ehukai, just one of countless public beaches along this stretch of the shore.
Like most of Hawaii, this attraction wears its stunning natural beauty casually. No big flashy signs, just a tiny parking lot, small bathroom, some wild chickens wandering around, and a pathway down to the 1.2-acre beach.
"I think it's a wave that is really the measure of a surfer's courage," pro surfing legend Shaun Tomson has said of Pipeline, and once you get a look at it, you'll agree.
There are actually several different waves here, created by three successive reefs: The one closest to shore generates the left-breaking Pipeline wave (to the right from a shore-watcher's perspective), and Backdoor, which goes right. Further out, Second Reef and Third Reef can create even bigger surf.
Once you've gotten your fill of wave-gazing (or of the crowds, if it's a competition day), a nearby trail will get you moving but keep you in view of the ocean.
Ehukai Pillbox Hike begins just across the street from Pipeline, in the parking lot of Sunset Elementary school. Head into the driveway and look to your left for a trailhead sign.
Here you'll take the path through a wooded area that begins to climb up steeply, but don't worry -- the trail is only 8/10 of a mile. Along the way you'll stop at a succession of pillboxes, concrete former military lookouts on the hillside facing the majestic expanse of the North Shore.
The path is easy to follow, and you'll eventually find yourself at the summit pillbox, basking in your panoramic view of the ocean. Spending a day here makes it pretty darn easy to follow the instructions spraypainted in neon pink on one of the pillboxes: "GOOD VIBES ONLY."
Kauapea (Secret) Beach, Kauai
At the end of an unmarked street on the north side of Kauai, off Kalihiwai Road, you'll find a wooded path leading to Secret Beach.
The name's a bit misleading, as you'll likely see from the cars in its small parking lot, but Kaupea is still off the beaten path enough that you'll have plenty of space to yourself.