Putin warns of risks of a new nuclear arms race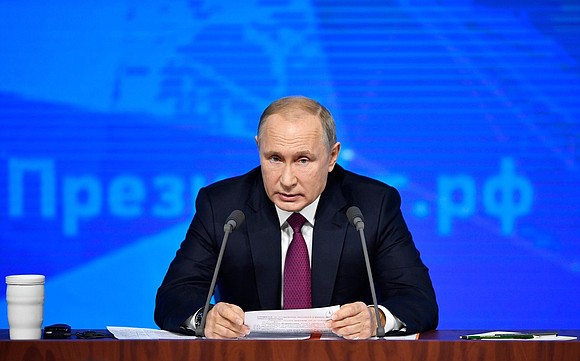 By Laura Smith-Spark, Nathan Hodge and Radina Gigova, CNN
(CNN) -- Russian President Vladimir Putin on Thursday addressed concerns about the growing risks of a new nuclear arms race as he held his annual televised news conference in Moscow.
"The danger of the situation escalating is being downplayed," he said in response to a question about fears of nuclear war.
Putin expressed the hope that humankind would have enough common sense "not to go to extremes." He also warned that the lowering of thresholds relating to nuclear capability "could really lead us to catastrophe."
Russia has criticized the US over the Trump administration's plans to withdraw from the Intermediate-Range Nuclear Forces Treaty, saying it risks the breakdown of international arms-control agreements.
This year's news conference is Putin's 14th, according to state-run media outlet RT.
The widely anticipated event, broadcast live on Russian TV, is a chance for hundreds of Russian and international journalists to pose questions on a range of subjects from the purely domestic to global affairs. Many hold up signs and banners as they seek to attract Putin's eye.
This year's marathon session wrapped after close to four hours, during which Putin appeared unruffled by the many issues raised, trotting out a raft of facts and figures -- and even making the odd humorous remark.
Putin agrees with Trump's Syria decision
Asked about US President Donald Trump's surprise announcement of a US troop withdrawal from Syria, Putin agreed with Trump's assessment that ISIS had largely been defeated in Syria.
"As for defeating ISIS, I do generally agree with the President of the United States. We have struck major blows and advances. There are now concerns that those terror groups can infiltrate neighboring countries ... and pose a risk to Russia, the US, Europe and Central Asia."
On Wednesday, Trump ordered staff to execute the "full" and "rapid" withdrawal of US military forces from Syria, declaring that the US has defeated ISIS.
"If the decision to withdraw was made, then it is a correct one," Putin said, adding that the United Nations had not legitimized the presence of US forces in Syria.
However, he also expressed skepticism about whether the US would in fact quit Syria.
"As far as the withdrawal of US troops is concerned, I really don't understand what it's about, because the US has been present for some 17 years in Afghanistan," he said. "They're [the US] still talking about withdrawing them, but they haven't done it yet."
Putin also expressed his willingness to meet with Trump but said he was unsure whether it would come about. The US President canceled a planned meeting between the two leaders last month on the sidelines of the G20 meeting in Argentina.
"I don't know whether a meeting will happen," Putin said. "On multiple occasions I've said I am willing to meet, we have a number of issues to discuss, including our bilateral agenda."
Putin suggested that the pair's ability to talk would be constrained when the Democrats take control of the US House of Representatives in January, following midterm election gains.