200 Pastors and Faith Leaders in Prayer and Support Kickoff the 2018 Sheila Jackson Lee Congressional Campaign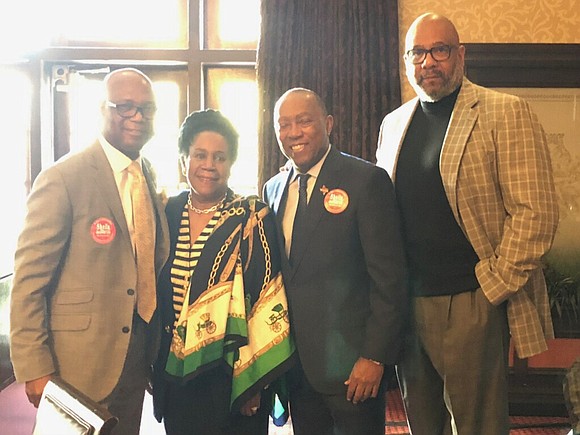 Something highly unusual happened at 8:00 AM on Monday morning, January 29. Nearly 200 pastors and faith leaders made their way to Vic and Anthony's 5 Star Restaurant, in downtown Houston. Why? They gathered to affirm their intensified support for Congresswoman Sheila Jackson Lee. The veteran incumbent finds herself with an opponent as she seeks re-election to the seat she has now held for blank years. This group of faith leaders are not taking anything for granted. The event was co-chaired by two of Houston's prominent clergy personalities. Bishop James Dixon of The Community of Faith Church, and Dr. Ralph D. West of The Church Without Walls.
Mayor Sylvester Turner addressed the crowd enthusiastically and County Commissioner Rodney Ellis also came by to show support. The line-up featured a plethora of speakers both passionate and powerful. The ecumenical assembly consisted of Baptists, Methodists, Lutherans, the Church of God in Christ, Pentecostals and Independents, all with one mind and one message. Sheila Jackson Lee is the best and only sensible choice!
Ministers lauded her being a champion for public education, for supporting public schools, and a sacrificial public servant, Hurricane Harvey. Repeatedly, it was echoed that it would be unwise to think of changing persons in such a powerful and strategic position. They pledged their financial and influential support for her re-election well. "These men and women meant business," responded the Congresswoman.
She is clearly the favorite of a predominant percentage of the religious community across denominational lines. Pastor Roderick Dawson inspired multiple A.M.E. Pastors to attend; Bishop Johnny Tate and Bishop Destry Bell represented the C.O.G.I.C. community; Pastor Max Miller and Dr. Sam Gilbert led their respective ministerial groups; as did other leaders and moderators. That is why the luxurious banquet room at Vic and Anthony's Restaurant was filled to capacity for this Ecumenical Prayer Breakfast. Dr. Ralph West shared, "We can all share stories of when Congresswoman Lee showed up and made the difference that resulted in help for our community."
There were female church leaders there also to also throw their influence behind her. Dr. Connie Stewart, Pastor Irishea Hilliard, and Pastor Cassandra Scott were among those whose presence and pledged support was well documented. In fact, there were multiple generations of faith leaders in the room that added weight to her support. Dr. F.N. Williams, Sr., Dr. Samuel H. Smith., Pastor James Nash and Dr. Gusta Booker were among the many supporters.
Bishop James Dixon framed it this way. "She's been a leader of character, competence, compassion, and commitment. That's why we are charged to make sure Sheila Jackson Lee continues to represent our district and our city in the U.S. Congress".