Let The Good Times Roll At Willie's "Beer Bugs & Blues" Party
Cajun crawfish boil, live music and more on tap for five-day party, Feb. 8-11, 13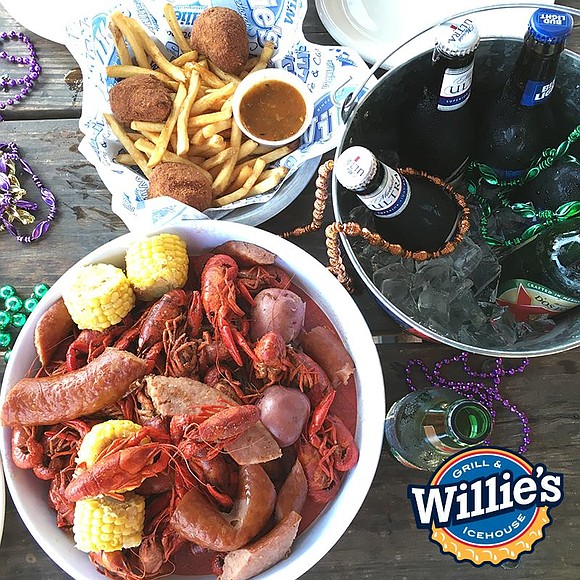 HOUSTON (Feb. 1, 2018) – Willie's Grill & Icehouse – known for serving "Great Food and More Fun" to Texans – is celebrating Mardi Gras Cajun-style, with a lively five-day party.
From Thursday, Feb. 8 to Sunday, Feb. 11, and of course, on Fat Tuesday, Feb. 13, Willie's will have a 5,000-square-foot tent set up outside, complete with a full-size bar, stage and dance floor for Mardi Gras revelers of all ages.
In addition to its full menu of down-home Texas fare, Willie's will be serving up Louisiana's best crawfish by the pound for just $6.99/lb.
The Houston hot spot will also feature face painting, a balloon artist, a sandbox and other activities for the kids, featured cocktails for the adults and live music for the whole family. Several popular local bands have been scheduled for each night of the week-long party:
Thursday, Feb. 8 – Hamilton Loomis @ 6 p.m.
Friday, Feb. 9 – Louis Adams Diaz Band @ 6 p.m.
Saturday, Feb. 10 – Paul Ramirez Band @ 6 p.m.
Sunday, Feb. 11 – Luther and The Healers @ 4 p.m.
Tuesday, Feb. 13 – Lil Porter @ 5 p.m.
Of course, you can't celebrate Mardi Gras without Frozen Yards, so in addition to its popular margaritas, Willie's will have three frozen cocktails available during the party: the Big Willie, Voodoo Daddy and Frozen Jack & Coke. Each of these specialty drinks are just $12 in the 24 oz. souvenir yard glass. If you're more of a beer drinker, take advantage of the Mardi Gras beer bucket special – buy five ice cold bottled beers and get the sixth free. Talk about a good time!
"Mardi Gras is our favorite time of the year, which is why we're celebrating for five days," said Doug Stewart, Vice President of Operations for Willie's Houston and College Station. "We will be boiling up a ton of our famous crawfish, we'll have plenty of fun activities for the entire family and we have great bands lined up. So come join us in celebrating and let the good times roll."
Admission, beads and all of the activities are free. For more information, visit the event page at facebook.com/beerbugsandblues.
Laissez les bons temps rouler!
Willie's menu boasts some of the best burgers in Texas, giant hand-breaded Chicken Fried Steak, finger lickin' Baby Back Ribs and Texas Seafood. From boiled crawfish to BBQ, Willie's offers up several mouthwatering dishes that are sure to please. With establishments peppering the Lone Star State, Willie's Grill & Icehouse is proud to call itself a Texas original.
Willie's Grill & Icehouse is located at 17492 Northwest Freeway in Houston.
About Willie's Grill & Icehouse
Beginning as a stand-alone burger joint back in 1993 in Houston, Texas, Willie's is still the place to go when you're looking to kick back with family and friends and dig in to some down-home Texas fare. Willie's captures the feel of the traditional Texas Icehouse that offers a casual restaurant feel with old-time nostalgia. Add some lively music, a trough packed with cold beer, giant open garage doors, a sandbox, arcade games for the kids and the friendliest service in Texas and it's easy to see why Willie's is the place for "Great Food and More Fun" for Texans of all ages.