Semi-trucks Filled with 1.2 Million Packages of Girl Scout Cookies Roll into Houston February 10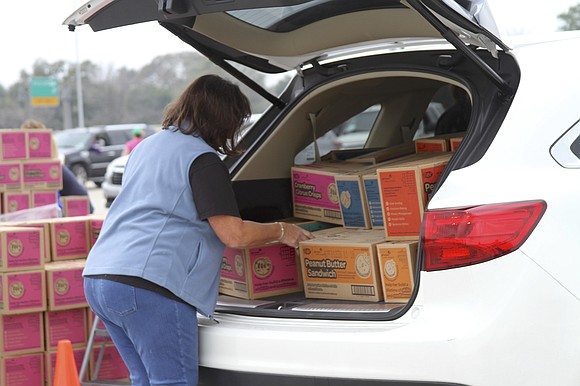 Southeast Texas (February 1, 2018) – It's the day Girl Scout cookie lovers have been waiting for. Girl Scout Cookies are rolling into southeast Texas beginning Saturday, February 10. From 8 a.m. to 4 p.m. at Sam Houston Race Park, hundreds of Girl Scout volunteers will be unloading more than 1.2 million packages of Girl Scout Cookies from dozens of semi-trucks that will line the event park. The cookies will be delivered to customers in the following days by Girl Scouts who took pre-orders in January.
"Seeing hundreds of volunteers working together to unload the volume of cookies they do each year in support of girls learning important life skills is really a sight to behold," said Mary Vitek, CEO for Girl Scouts of San Jacinto Council (GSSJC). "Customers see cookies, but these volunteers really understand that while they are pretty delicious, Girl Scout Cookies are an opportunity for girls to do extraordinary things."
The Girl Scout Cookie Program is the largest entrepreneurial program for girls in the world that teaches girls essential life skills, including goal setting, decision making, money management, people skills and business ethics. That's not all. Girl Scout Cookies also power amazing experiences for girls, including outdoor, high adventure and travel opportunities, exposure to STEM and the arts as well as providing ways to improve their communities through service projects.
At the beginning of the sale GSSJC announced its goal to donate 120,000 packages of Girl Scout Cookies to members of the military and first responders who supported relief efforts after Hurricane Harvey. Customers interested in participating in the program can ask that their purchase be donated to support Cookies4Heroes.
Beginning February 23 at 4 p.m., girls will sell cookies at booths located outside of retail locations. To find a booth in their area, customers can visit www.girlscoutcookies.org or download the Cookie Finder App from iTunes or Google Play .
GSSJC's Cookie Program ends March 25.
We're Girl Scouts of the USA
We're 2.6 million strong—1.8 million girls and 800,000 adults who believe in the power of every G.I.R.L. (Go-getter, Innovator, Risk-taker, Leader)™ to change the world. Chartered by GSUSA to provide Girl Scouting locally, Girl Scouts of San Jacinto Council, a United Way agency, is one of the largest Girl Scout councils in the country serving more than 56,000 girl members and 17,000 adults in 26 southeast Texas counties. For more information, call 1-800-392-4340 or visit www.gssjc.org.