High School State Honoree: Zane Magee Nominated by Montgomery High School in Montgomery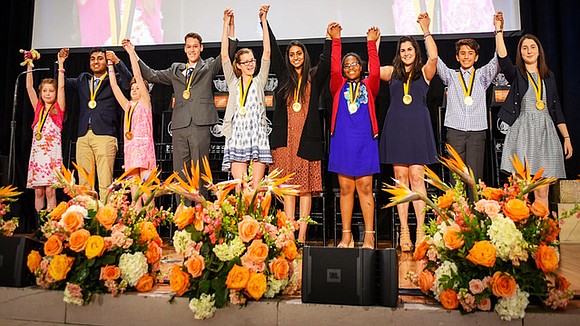 AUSTIN, Texas – Zane Magee, 17, of Montgomery and Caroline Wells, 14, of Tyler today were named Texas' top two youth volunteers of 2018 by The Prudential Spirit of Community Awards, a nationwide program honoring young people for outstanding acts of volunteerism. As State Honorees, Zane and Caroline each will receive $1,000, an engraved silver medallion and an all-expense-paid trip in late April to Washington, D.C., where they will join the top two honorees from each of the other states and the District of Columbia for four days of national recognition events. During the trip, 10 students will be named America's top youth volunteers of 2018.
The Prudential Spirit of Community Awards, now in its 23rd year, is conducted by Prudential Financial in partnership with the National Association of Secondary School Principals (NASSP).
These are Texas' top youth volunteers of 2018:
High School State Honoree: Zane Magee
Nominated by Montgomery High School in Montgomery
Zane, a senior at Montgomery High School, formed a nonprofit ministry that supports deployed soldiers and military veterans in a variety of ways, including providing them with Bibles and care packages, organizing fundraisers, raising awareness of post-traumatic stress disorder (PTSD), and even writing an inspirational book to honor and support servicemen and women. Zane has always admired the people who fight for their country. When he was 10, "I wanted to be a part of the military and the only way I could at a young age was to support those that were actually serving or had served," he said. When he heard about the prevalence of PTSD in the military, he knew he wanted to do something to help.
He started by collecting Bibles at his church and sending them to deployed soldiers. Soon after, he began sending care packages containing toiletries and snacks to troops. When he was 13, his "Beyond the Battlefield Ministry" became a nonprofit organization and he established a Facebook page to convey information about special military programs, organizations and events for veterans. Zane also planned fundraisers, including a gun tournament and a gala. A conversation with a Navy Seal about PTSD and how faith can aid in healing led Zane to write a book, Hope & Help for Heroes, and donate 1,000 copies to veterans and veterans organizations. Altogether, Zane estimates that he has contributed $36,000 in cash donations, gifts and assistance to benefit soldiers and veterans. "Those that serve in the military are heroes and deserve our honor and respect," said Zane. "They are sacrificing and fighting for our freedom, and are willing to lay down their lives for our country."
Middle Level State Honoree: Caroline Wells
Nominated by All Saints Episcopal School in Tyler
Caroline, an eighth-grader at All Saints Episcopal School, has raised more than $40,000 for her local Salvation Army chapter by selling lemonade, ringing bells during the holidays, and organizing food and toy drives. When Caroline was in third grade, a fire destroyed a local Salvation Army storage building that contained Christmas presents for children. Her class stepped in to bring gifts there, and while touring the facility, they saw the rooms where families slept. "I asked my Mom 'when do they get to go home?' and she said that this is their home for now," Caroline said. "As an 8-year-old, it hit me hard. I knew then I needed to do what I could to make their lives better," she said.