Night to Shine Prom: Coming to You Live From Around the World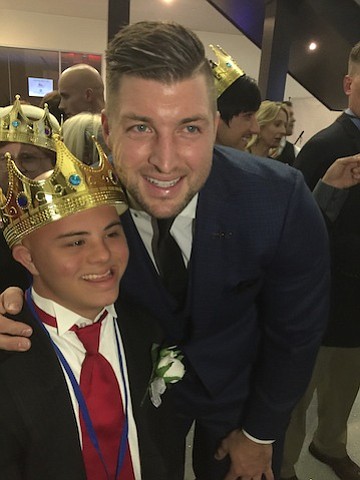 (Jacksonville, FL, February 8, 2018) – With 540 host churches across the United States and in 16 countries, there is a good chance Night to Shine, a prom for people with special needs, sponsored by the Tim Tebow Foundation, is happening near you this Friday night from 6-9pm! In towns across America and around the world, each Night to Shine prom will welcome their honored guests with a red carpet, cheering crowd and friendly paparazzi and, once inside, deliver the royal treatment, including hair and makeup stations, shoe shining stations, corsages and boutonnieres, a karaoke room and, of course, dancing. The highlight of the night will come when each guest is crowned king or queen of the prom.
Excitement is building as the Tim Tebow Foundation prepares for this unforgettable prom night experience, centered on God's love, for people with special needs. This Friday, February 9, more than 90,000 people with special needs, ages 14 and older, will be celebrated by more than 175,000 volunteers around the world. A complete list of host locations is available on www.timtebowfoundation.org
With the majority of our host churches reporting that they have reached capacity for guests and volunteers, the Tim Tebow Foundation has created a way for everyone to experience this magical night, even if they are not attending a prom.
By visiting www.timtebowfoundation.org, everyone can follow Night to Shine LIVE in several different ways:
*Watch LIVE updates as Tim Tebow visits select Night to Shine events throughout the day and night surprising thousands of volunteers and honored guests.
*Watch LIVE streams from the Jacksonville, FL Night to Shine event between 6 9pm EST to experience the event in real-time. Live streams will be hosted on the Tim Tebow Foundation's Facebook & Instagram.
*Get real-time updates through photos and videos from prom-goers around the world using #NightToShine. The foundation's website will feature feeds from Tim Tebow's Facebook, the Tim Tebow Foundation's Facebook & Instagram.
*You can also join the community of givers, including Global Corporate Partner, American Residential Services (ARS/Rescue Rooter), in funding this incredible prom night experience for people with special needs by making a donation on prom night at www.timtebowfoundation.org
Through this live streaming event, the Tim Tebow Foundation hopes that viewers will have the chance to witness the stories first-hand as people with special needs across the country and around the world are celebrated as the kings and queens of the prom!