The Ensemble Theatre Artistic Director Eileen J. Morris Joins First Cohort of the BOLD Theater Women's Leadership Circle
$1.25 Million Gifted To Support the Present and Future of Women in the American Theater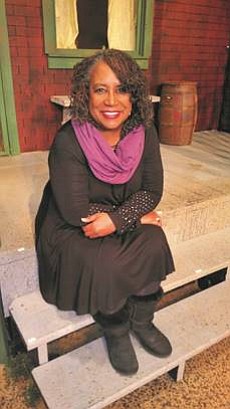 HOUSTON (February 8, 2018) The Ensemble Theatre Artistic Director, Eileen J. Morris is among five female artistic leaders selected as the first in the Nation awarded part of a $1.25 million gift of The Pussycat Foundation and Northern Stage in support of women artistic directors in professional theaters across the United States.
"It is an overwhelming honor to be among this first group of phenomenal women in the arts," says Morris. "Our industry has long been in need of broadening opportunities for female artistic leaders."
The BOLD Theater Women's Leadership Circle grant, funded by the Pussycat Foundation and led by Carol Dunne, Producing Artistic Director of Northern Stage, will provide $1.25 million in support for Northern Stage and four other theaters run by female artistic directors during the 2018-2019 season. Each theater will receive a $250,000 grant. The BOLD Circle's mission is to create a network of women artistic directors in professional theaters across the United States and empower them to address the issues preventing women from advancing in theater leadership. The BOLD Circle will offer major support of artistic initiatives focused on women artists and will create a formal mentorship program to train and prepare future women artistic directors to lead, to create, to innovate, and to deepen the impact of theater on American culture.
The first cohort of the BOLD Theater Women's Leadership Circle includes Susan Booth (The Alliance Theater, Atlanta, GA), Eileen J. Morris (The Ensemble Theatre, Houston, TX), Lisa McNulty (WP Theater, New York, NY), Sarah Rasmussen (Jungle Theater, Minneapolis, MN) along with BOLD founder Carol Dunne (Northern Stage, White River Junction, Vermont).
Each of the Artistic Directors chosen for the BOLD Circle has demonstrated artistic excellence and a deep impact on community. The leaders have also demonstrated a strong history of mentoring, and will work together to elevate the next generation of artistic directors. "We were overwhelmed by the applicants for the BOLD Circle," says Dunne, who says the foundation received over 40 applications. "The stories that our country's women artistic directors had to tell should be required reading for anyone interested in why women hold such a small percentage of leadership positions in the American theater. I am confident that this first cohort of visionary artistic directors will pave the way for countless others."
Morris, a director, actress, and educator is a native of Chicago, Illinois. She attended Northern Illinoi University where she majored in Theatre and minored in English. Her professional career in the arts was just beginning when she relocated to Houston and met The Ensemble Theatre founder George W. Hawkins. They bonded through their passion to develop a space in Houston where African American artists could come together and hone their skills. Her work with Hawkins spanned from 1982 until his death in 1990.
As The Ensemble Theatre artistic director, she has produced over 116 productions and directed more than 78 main-stage productions, which include eight world premieres and 57 regional premieres. Under her artistic leadership, The Ensemble Theatre received the 2013 Best Season Theatre Award from the Houston Press. In 2007, The Ensemble Theatre was named Best Theatre by the Houston Press and 2007 Best Showcase for African American Actors by the Ultimate Section of the Houston Chronicle. The Ensemble Theatre also presented two out of the 10 best plays named by the Houston Chronicle as the Best of Houston Theatre 2008.