HMAAC Black Panter Community Day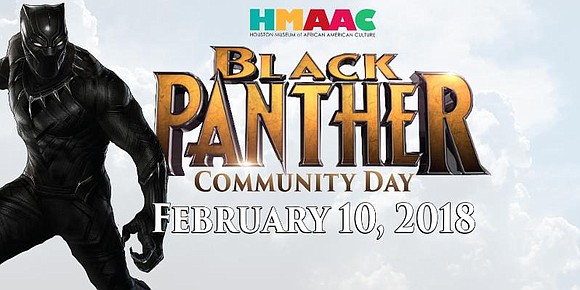 HMAAC is the Proud Disney Partner for the earliest Houston advance screening of Marvel Studios Black Panther this Saturday, February 10, 2018. As community partner, HMAAC brings to Houston Black Panther Community Day
12:00 pm - 4:00 pm
Wakanda Rises: Stills and Sketches from the Motion Picture "Black Panther" presenting the story of T'Challa, a young African prince who takes on the mantle of King and Super Hero, and the centuries old legacy that comes with it.
1:30 pm
Panel: Black Superheroes: From Shaft to Luke Cage to Black Panther
Houston artists and comic book enthusiasts examine the legacy and future of black superheroes and how they reflect the state of current affairs.
Panelists: Jasmine Jones, Dominic Clay, Schetauna Powell, Jason Oliver, Marc Newsome and Devida Norris
2:30 pm
For the Kids: Create Your Own Superhero!
An HMAAC artist-Educator will ear children in creating their vision of a Superhero.
5:30 pm
Advance Screening: Marvel Studios Black Panther
Edwards Greenway Grand Palace
Important:
You MUST RSVP to the HMAAC Black Panther Community Day Eventbrite to recieve a ticket to view the advance screening.
One RSVP = One Ticket Everyone must RSVP
Ticket pick up from HMAAC between 1:30 and 4:00 pm
https://www.eventbrite.com/e/hmaac-black-panther-community-day-tickets-42993101524