PBA Hall of Famer Norm Duke Helps Host Chris Paul Win His Fourth State Farm® CP3 PBA Celebrity Invitational Doubles Title
Houston Rockets star wins second consecutive title in multi-event extravaganza benefitting Paul's CP3 Family Foundation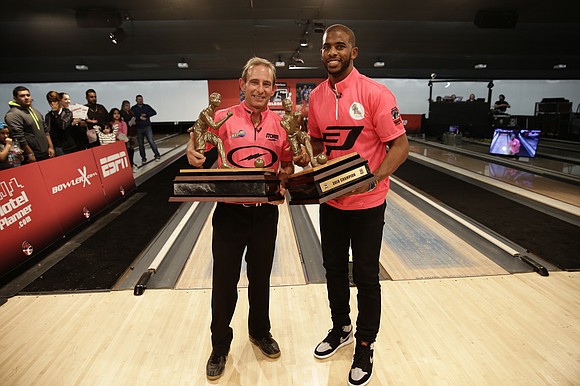 THE WOODLANDS, Texas (Feb. 5, 2018) -- With the help of PBA Hall of Famer Norm Duke, Houston Rockets All-Star guard Chris Paul won his second consecutive and fourth overall doubles title in the State Farm® CP3 PBA Celebrity Invitational presented by GoBowling.com in a special televised Sunday, February 4, 2018 on ESPN from Bowlero The Woodlands in the suburban Houston.
In the featured event of the ninth annual invitational event involving PBA stars and celebrity bowlers benefitting Paul's CP3 Family Foundation, Paul teamed with Duke for an error-free, 10 strike performance in the alternate-frame doubles format championship match to beat eight-time PBA Tour titlist Bill O'Neill and Boston Red Sox All-Star outfielder Mookie Betts, 259-226, in the title match.
Paul and Duke combined for the first six strikes in the match which ultimately proved too much for the O'Neill/Betts team to overcome. In the ninth frame, Paul sewed up the win by picking up the challenging 4-5 split in front of an enthusiastic sold out crowd at Bowlero The Woodlands.
"I've been blessed to have some great partners over the years and Norm certainly showed why he's a Hall of Famer," said Paul, who won last year's event with PBA Hall of Famer Chris Barnes. "It was up to me to stay there with him and keep the momentum going. Bowling's like every other sport where, when you get that momentum early, you want to keep it. If you do, good things are going to happen."
Paul also won doubles titles back-to-back in 2010 and 2011 with four-time PBA Player of the Year Jason Belmonte. For Duke, it was his first CP3 Celebrity Invitational win.
"Going into the finals I felt like we were the underdogs," said Duke. "Mookie is a talented player and Bill is one of the best in the land right now so we knew we were going to have our work cut out for us.
"We got through the semifinal match in good shape but right before practice for the title match Chris was kind of lost and asked me 'What should I do?' Chris is a guy who likes to play the inside part of the lane and hook the ball, but I suggested he try playing outside where I was playing and, sure enough, he made it work. We just started striking and we were on our way.
"I don't want to understate how big that 4-5 split conversion was," Duke added. "At that point the match still could have gone either way if he had missed it, but that was a great shot."
In the five-frame semifinal matches, the Duke/Paul team beat 2016 PBA Player of the Year EJ Tackett and Paul's Rockets teammate, James Harden, 109-90, and the Betts/O'Neill team beat the 2016 winners, newly-elected Pro Football Hall of Famer Terrell Owens and PBA Hall of Famer Pete Weber, 130-73, to advance to the final match.
Sunday's telecast also featured a one-game Baker format team match with two-time PBA Tour winner DJ Archer of Houston, Paul, Harden, fellow Texan Dino Castillo and Rockets forward Trevor Ariza making up the Houston Strong team against 12-time Tour winner Sean Rash, Betts, Owens and 2017 Teen Masters representatives Hannah Diem of Seminole, Fla., and Logan Harvey of Titusville, Fla., making up the Bowlero All-Stars team. The Bowlero All-Stars overcame an open in the second frame to soundly defeat a struggling Houston Strong team, 215-158.