Help from Public Needed in Search for Assault Suspect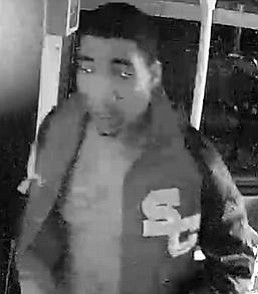 METRO police are asking for the public's help to find a man wanted for punching a METRO bus operator in the face. The aggravated assault took place after the man boarded the bus at East Richey Road and Imperial Valley Road on Monday, Feb. 5 just after 9:30 p.m. on the 86 FM 1960/ Imperial Valley route.
The man refused to pay his fare and then punched the operator in the face. The suspect then jumped off the bus, but a few stops later, boarded again and struck the operator several more times.
Scar of suspect




The suspect appears to be an African-American man in his early 20s, with a thin build, short hair, a goatee and a scar on the back of his head.
He was wearing a blue letter jacket with the name "Tiffany" on the right side and "SC" on the front.
He is facing a first degree felony charge of aggravated assault of a public servant and elderly person.

Anyone who recognizes the suspect is asked to contact MPD's Criminal Investigation Division at 713-739-3797.