Local Teen Brothers Write Book to Encourage Teens to Realize the Greatness Within Them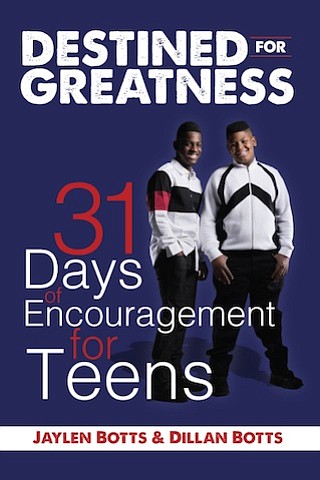 After visiting local bookstores last summer, teenage brothers and avid readers, Jaylen & Dillan Botts discovered one major problem: a shortage of books on bookshelves written FOR teens BY teens to encourage them to achieve their greatness. Jaylen and Dillan began a mission to change that.

"No one understands the pressures of being a teenager in today's world like other teenagers. We believe that teens can motivate other teens to achieve their dreams," said Jaylen Botts.
They set out over the summer to write their first book to encourage teens to achieve their dreams. The 31-day devotional inspirational book for teens deals with a wide-range of topics from bullying-to-peer pressure-to-dressing for success.
"We hope other teens will be inspired to realize that they are meant to have a bright future and path ahead," said Dillan Botts.
The Botts brothers will host a book signing and reception for their book, "Destined for Greatness" on Sunday, February 11 from 3-5pm at The Berry Center (8877 Barker Cypress Road – Cypress, Texas 77433).